It's really difficult to take a beautiful photo of baked beans. In this case, a photo is not worth 1,000 words. Lowly old beans weren't born to be the belle of the ball. When mixed with dark liquids and baked until sticky and syrupy, they become a brown, lumpy slop. Even topped with a decorative crispy bacon lattice top, it isn't as much a feast for the eyes as it for your palate.
In the past, I have generally been disappointed when I start recipes with dried beans. With navy bean soup, it works out just fine but for black bean soup and other bean dishes, I don't really notice a difference. In many cases, the beans don't reach the texture I desired.
My mom is a good home cook. She doctored up prepared foods to make them her own long before the internet was full of "hacks." When serving my dad his favorite canned baked beans, she often added a few dashes of this and that as they heated through on the stove. As far as I remember, she had never baked them in the oven herself.
Recently, my husband bought a smoker and spent hours researching recipes and techniques for crafting the perfect ribs (his final recipe coming soon.) I decided I better up my game with the sides so they could hold their own as companions to his heavily researched main dish. After reading a number of online recipes and making notes about what to include, I developed this recipe, starting with my favorite canned beans.
The same weekend we ate these beans, I had taught my girls how to make a lattice-topped cherry pie. With lattice weaving on my mind and a package of applewood smoked bacon in the fridge, a light bulb went off. We crowned our beans with this lattice bacon topping.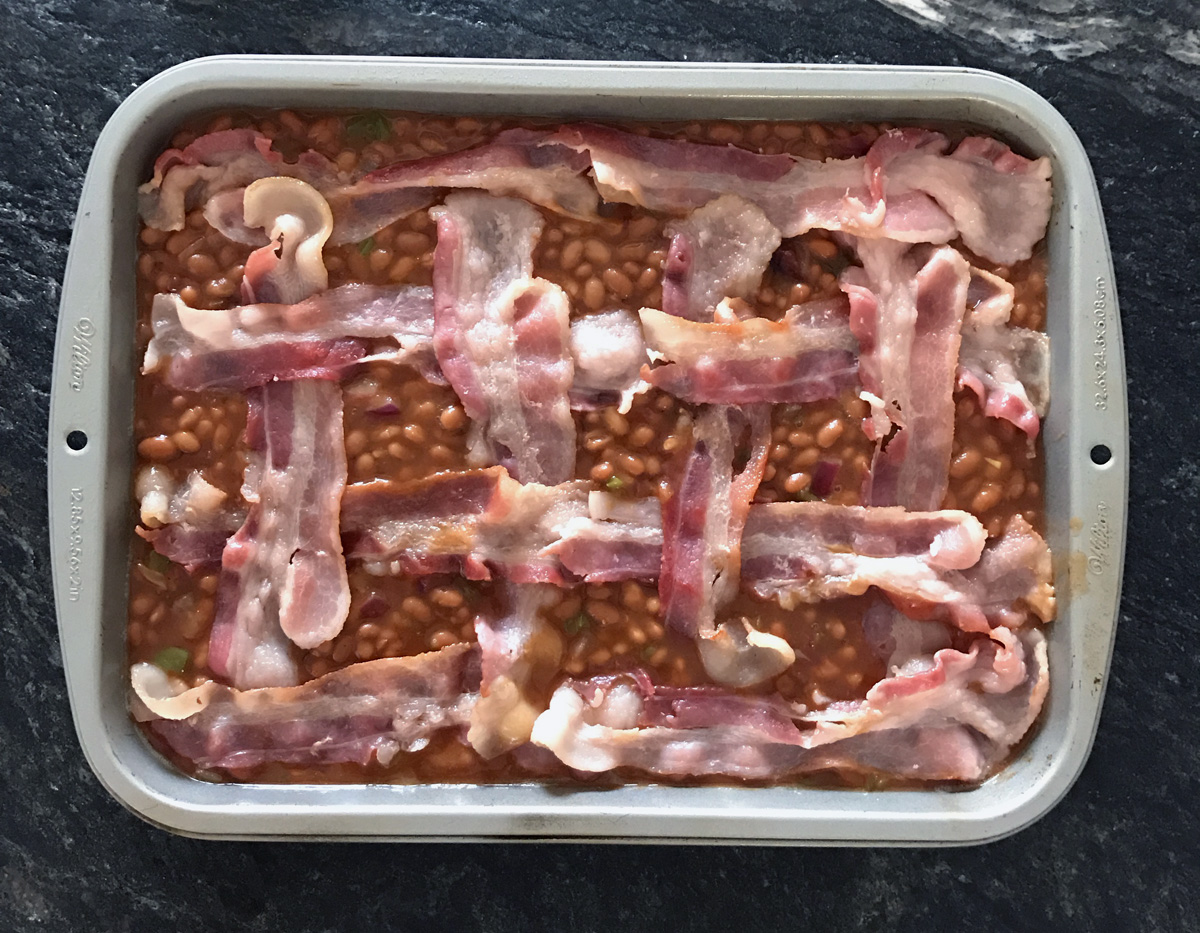 Though my husband's ribs were truly the star of the show, the beans were a HUGE hit. The long slow bake in the oven helps develop a syrupy consistency rich with flavor. As the bacon cooks on top, the smokey pork flavor adds additional aroma and depth to the beans. We used the same BBQ rub to flavor the beans as we used on the ribs, which created additional side dish synergy.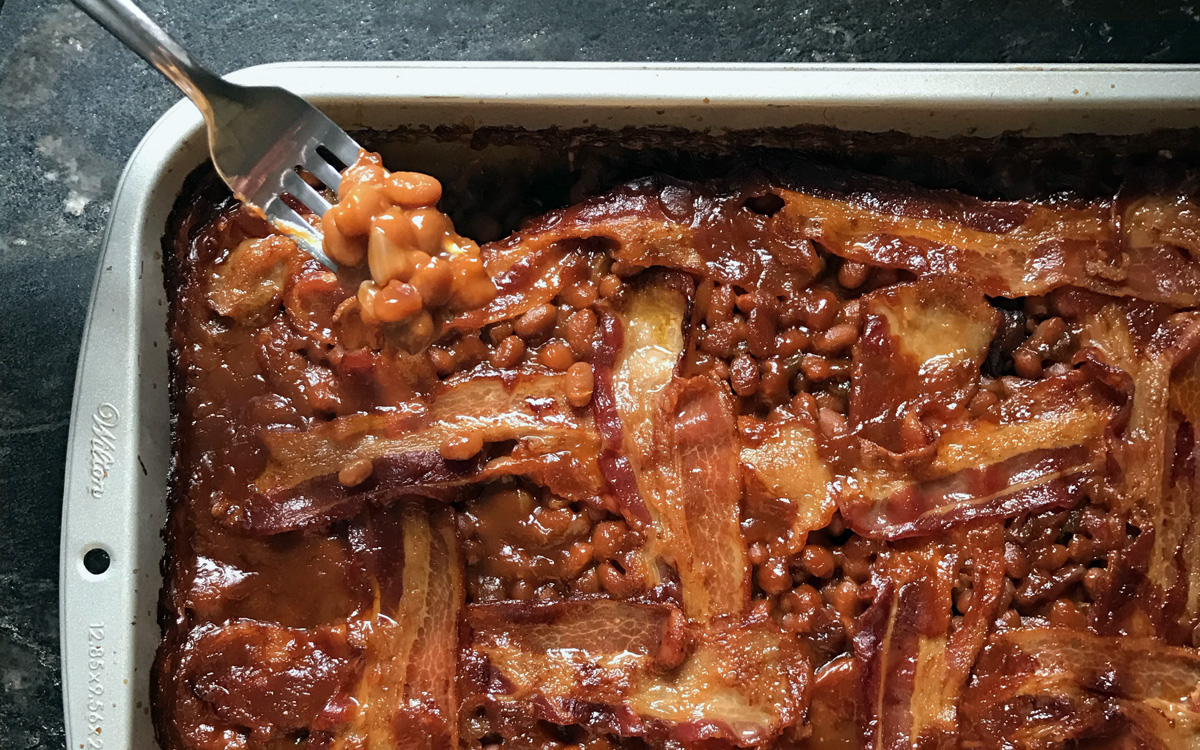 Bacon Lattice Topped Baked Beans
Serves 20 people
½ cup ketchup
1/2 cup cider vinegar
2 tablespoons brown sugar
2 teaspoons Worstershire
2 tablespoons BBQ spice rub (see below for the one we make, store bought is okay too)
2 tablespoons Dijon mustard
12 slices of applewood smoked bacon
1 medium onion, diced
1 small green pepper, diced
3 x 28 ounces Busch's Original Baked Beans
Preheat the oven to 325 degrees with a rack set in the lower middle part of the oven.
In a small sauce pan, combine the ketchup, vinegar, brown sugar, Worcestershire, bbq rub and mustard. Let simmer on low for 15-20 minutes. Do not heat too high or caramelize the sugar.
While the sauce is simmering, In a large skillet or pan with tall sides (needs to be big enough to hold all the beans), cook slices of bacon in batches until half cooked and still floppy. Remove and drain on paper towel-lined plate.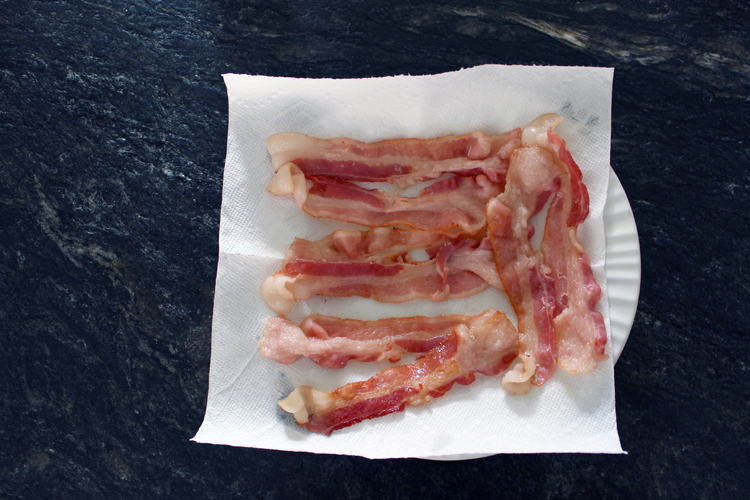 Pour out some of the bacon fat from the pan, leaving a few tablespoons. Add the diced onion and peppers to the pan over medium heat. Stirring, gathering up the browned bits from the bottom of the pan.
Add beans and sauce to the pan and simmer for 15 minutes on low. Don't cook too hot. Pour into a greased lasagna pan (or other casserole pan).
With your pan horizontal, prepare to create the bacon lattice topping, start by making a "tic tac toe" board with 4 slices on the left center side of the pan. Lift slices to create the over-under weave of the lattice. Repeat on the right side.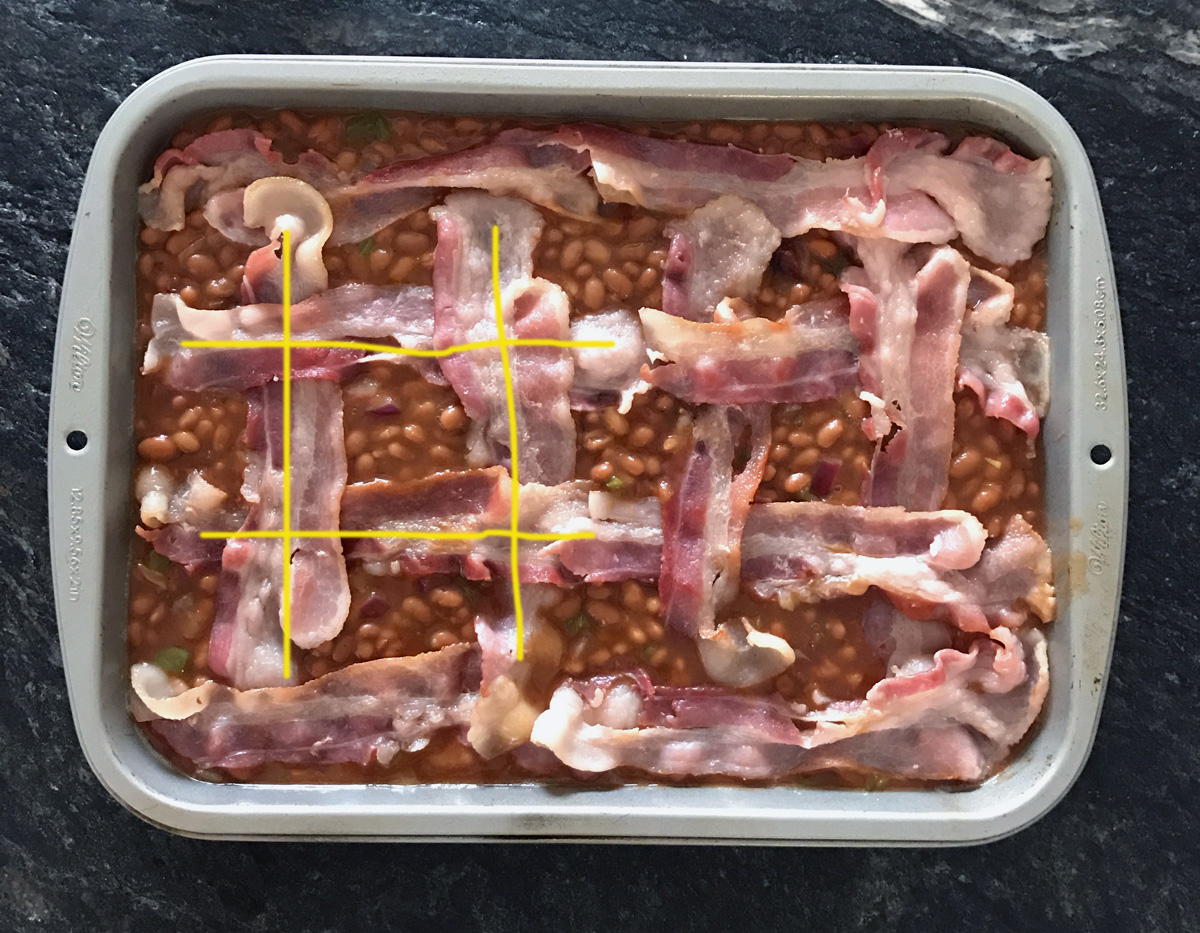 Then, add two of the remaining pieces on the top of the pan and two on the bottom of the pan tucking them over and under to finalize the weave.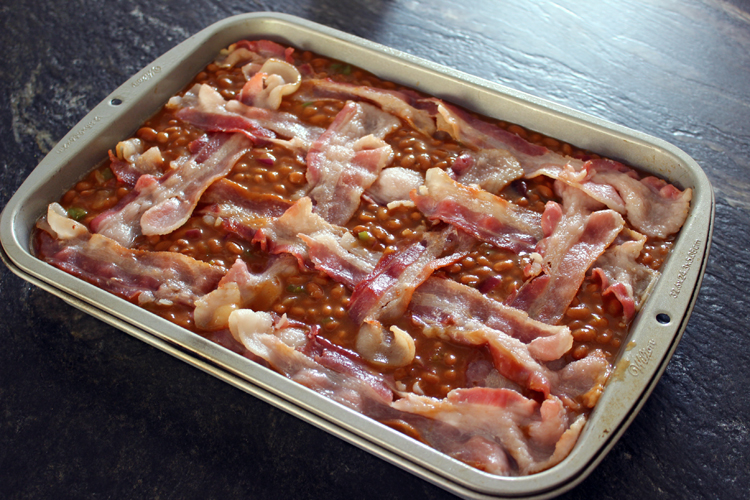 (this is the rub we use on ribs)
Rusty's Memphis Pork Rub
3/4 cup dark brown sugar
1/2 cup turbinado sugar
1/3 cup sweet Hungarian paprika
1/4 cup kosher salt
1 tablespoon black pepper
1/2 tablespoon chili powder
1 tablespoon ground ginger
1 tablespoon onion powder
1 tablespoon dried rosemary
1/2 teaspoon dried basil
Grind rosemary and basil in a coffee grinder or with a mortar and pestle until fine. Combine all ingredients. Store for months in a tightly sealed container.