It's blueberry season!
Time to stock up the freezer, load up on this delicious super food, and eat more BLUE foods. It's true what they say… those little, dark blue berries are delicious AND good for you.
We enjoyed our first trip to the Blueberry farm this past weekend and have another scheduled excursion for next weekend. Last summer, we stocked the freezer with enough blueberries to treat ourselves to pancakes, breads, cocktails, and muffins throughout the winter.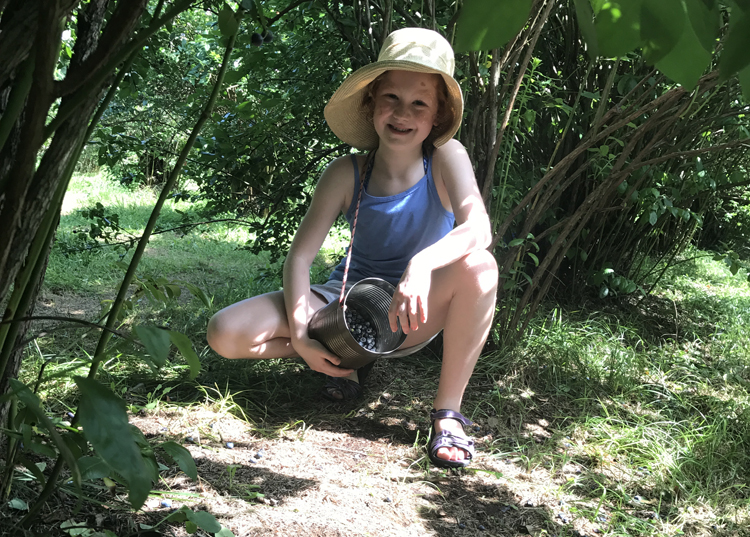 Blueberry picking certainly takes longer than apple picking. But, we've found it to be a calming family activity that sets us all on task with a common goal of luscious taste treats as a reward. If you live near Chicago, I have a suggested itinerary for a family day trip to Billy Boy's Blueberry Barn in Indiana.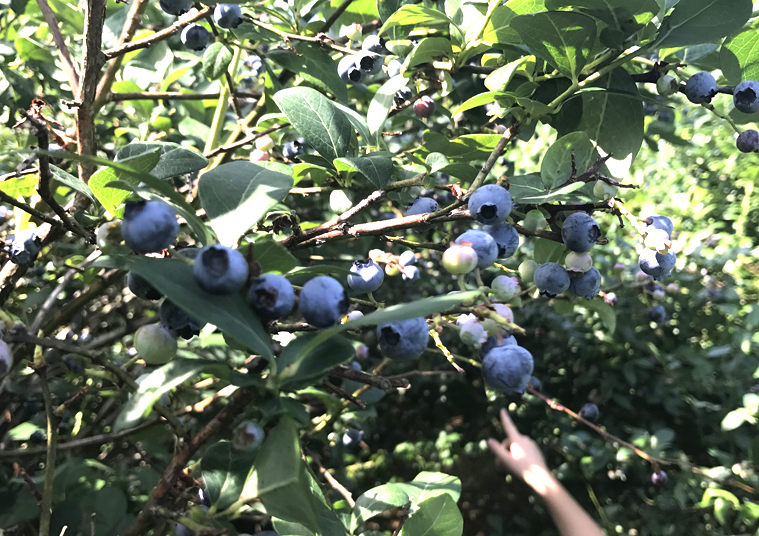 Blueberry Picking Day Trip from Chicago
The blueberry farm is about 1 hour and 10 minutes from downtown Chicago without much traffic. Here are a few stops you might want to consider along the way.
Departure: Set off first things with a cup of coffee and some car snacks to get you started. Pack some beach gear if you want to catch a swim before coming home.
Breakfast: Stop in Chesterton, Indiana for a hearty, cheap breakfast at the old school Peggy Sue's Diner
Blueberry Picking: Avoid the Hwy 94 and make your way to Hwy 12 along the lake for a more scenic drive.  Head to Billy Boy's Blueberry Barn. They are open every day except Tuesday.  Park on the grass and approach the farmstand to get your coffee-can-on-a-rope. Head into the field and pick until your heart's content. It is about $1.50 per pound. They sell yummy blueberry muffins and expensive but outstanding blueberry pies if you need a little pick-me-up.
Beach or Zoo?: You can head to nearby Washington Park in Michigan City to visit a public beach or their small zoo.  For a lesser known beach, head into Long Beach Indiana (right across highway 12 from the blueberry farm). You can park near the the little ice cream/coffee place called the Beach Glass Cafe to pick up a sandwich or an Intelligentsia Coffee drink (only open Friday – Sunday.)
Pizza: If you need a little heartier meal, head to Stop 50 Pizzeria for some amazing wood fired pizza. Try their meatballs as an appetizer and enjoy a cold beer.
Gas (with benefits): If you need a fill up (or even if you don't) stop at Jannsen's Dunes Mart along Highway 12 on the way home for some soft serve ice cream. It's old school and soooo good. Across the street you may find a pizza oven "truck."  If you didn't stop for pizza before, consider picking up one of these pies. The bearded hipsters with the pizza truck totally know what they are doing.
Now, head back to the city with a full belly and a car load of fresh blueberries! Picking blueberries will likely become an annual tradition!
STORING FRESH BLUEBERRIES
I have been told a number of times NOT to wash blueberries before freezing them. It adds more moisture that isn't good. Just lay them on sheet trays and freeze so they don't all stick together and then put in ziplock bags. I have even just kept ziplock flat and not too full and have avoided the trays all together.
In the next day or two, I'll share a few ideas of what to make with all those delectable berries!