Eight thumbs up from our family for Luzia by Cirque du Soleil. A Chicago theatre experience worth your time and ripe for the whole family.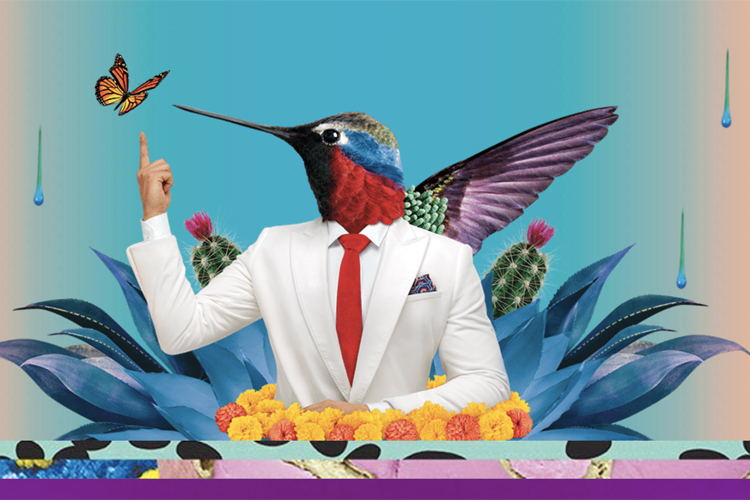 There are many things in my daily life that deplete my energy: global news, our political warfare, living in a big city, running a business, two young children. Last Friday, in three hours, my tank was not only refilled, it overflowed. My family went to see Luzia by Cirque du Soleil's new show that just opened in Chicago. The magnificent artistic expression, the unparalleled performances, and the inexplicable engineering of the show transported me to a state of awe and quite honestly, renewed some of my hope in humanity.
This sounds like crazy hyperbole, I know! Though I tend to be enthusiastic, please know that I am not exaggerating. I was truly moved. I admit that I am a perfect audience member for a show like Luzia. I have incredible appreciation for creativity and also a strong admiration for technical prowess. Cirque du Soleil is always a complicated yet graceful marriage of these two gifts, yet Luzia brought engineering and art together on an even higher level than I've witnessed before.
I had the unique pleasure of observing my 6 and 9 year old daughters as they watched a Cirque du Soleil show for the first time from the second row. The excitement lifted them out of their seats at times. Their faces nearly broke with intense smiling, they cringed and gasped, they laughed, and I cried. We squeezed each other's hands, repeatedly checking in with looks of utter disbelief. My own appreciation was magnified exponentially through their virgin eyes.
One of the biggest surprised with Luzia, as compared to other Cirque du Soleil shows, is the addition of water on stage. As if spinning on large hoops and dangling from a rope by one hand isn't dangerous enough, they now do it wet. Like every element incorporated into a Cirque du Soleil show, the water is introduced thoughtfully, not just for shock and awe. It becomes its own character offering danger, beauty, and even humor.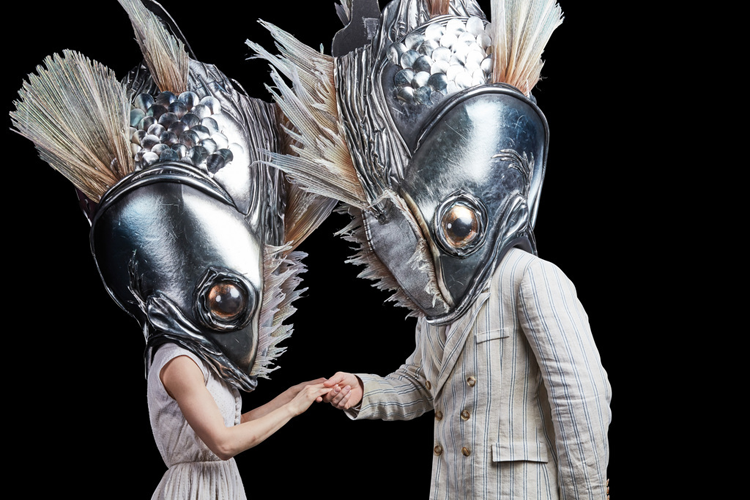 The full name of the show is Luzia, a waking dream of Mexico. The music, colors, lighting, energy, and movement make it easy to be transported into a dreamlike state – don't fight it! Let yourself believe in the fish people, life size armadillos, dresses that bloom, and hoop-flying hummingbirds. From an old movie scene, to a smokey dance hall, to an arid desert, Luzia will take you through time and space to explore the sights and sounds of Mexico.
Fulfilling expectation, there are a number of acts that put the performers in danger, which always raises blood pressure and stimulates adrenaline. Skilled acrobats swing from one arm high in the sky and daredevils fly high into the tent off long swings with no nets below.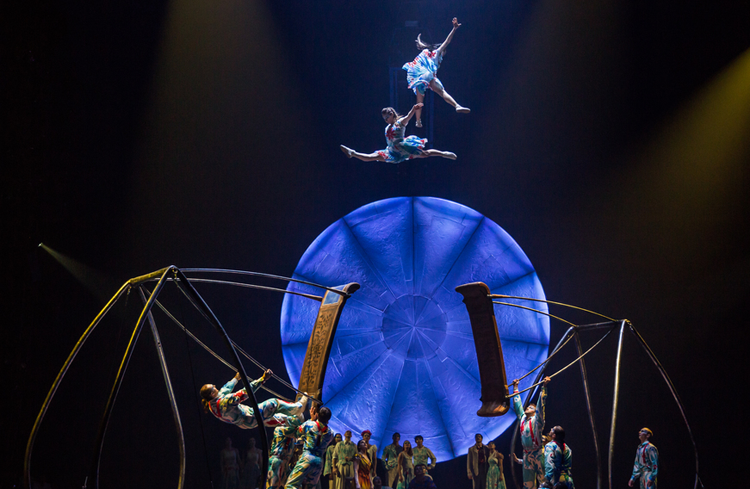 Though I appreciate these acts, I was more astounded by others that show unbelievable human discipline and beauty. The Adagio act was my favorite. A woman dances with three men, twirling her in the air and delicately flying this way and that. The men catch, throw and guide her with such grace that it looks effortless. As if that weren't enough, all the while crocodile-head musicians play sultry music and life-size armadillos, beetles and snakes roam the stage. (Learn more about the performers of this act and see a bit of their performance here.)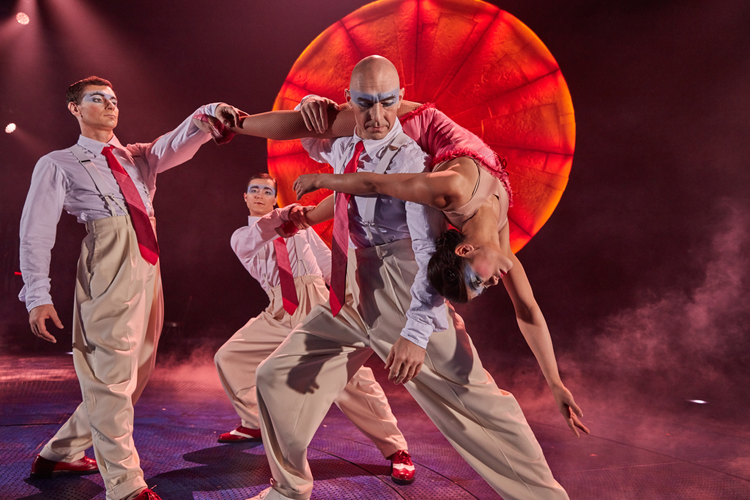 In another act, two amazing ball handlers perform with their soccer balls. I would have guessed two adults and two balls wouldn't be overly impressive. Their precision, contagious energy and skill made them my husband's favorite act. (Meet Abou here.)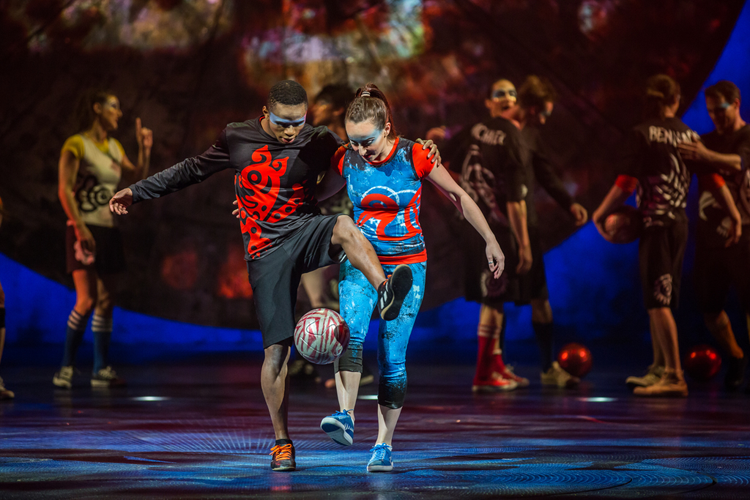 Though we cringed with each twist and turn, it was impossible to turn away from Aleksei Gorodorodko, the Russian contortionist. The 22-year old doesn't just twist his body into unnatural positions, he performs with the artistic expression and grace of a dancer. After the show, I was inspired to look him up and was further impressed by his path of dedication and achievement.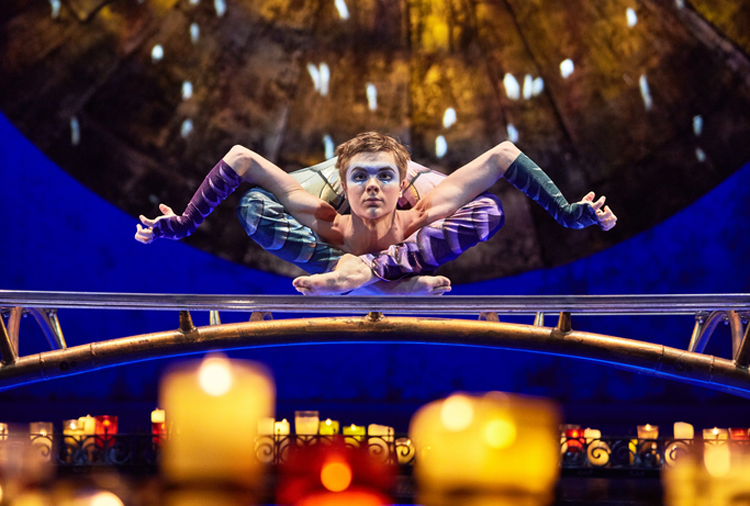 Have I mentioned the juggler?! What could possibly be new about juggling? There is no fire. There is nothing sharp. But this artist spins pins at a speed an accuracy that seems not humanly possible. He is such an entertainer that of all the acts, he had the crowd rooting for him more than any other.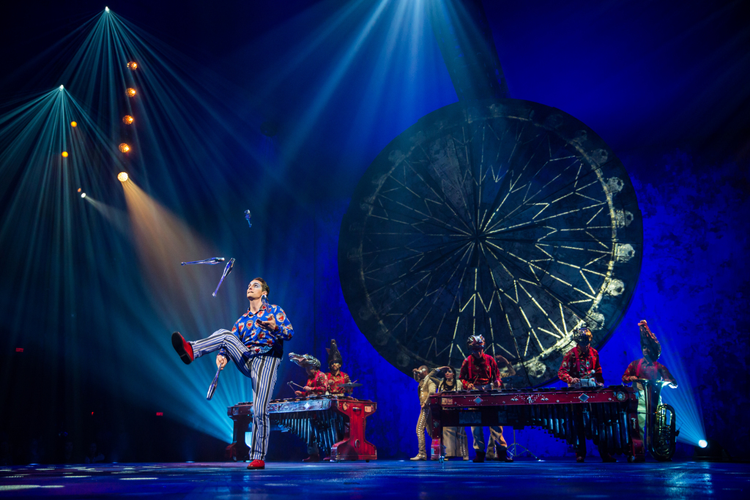 Still not convinced? Though you may not be as ripe as I was to appreciate this outstanding show, consider this….sixty-five trucks and trailers haul 2,000 tons of equipment to dozens of cities around the world. Six thousand liters of water are warmed, pumped and recycled to create the water feature that rains on the performers. Acrobats, dancers, singers, technicians, and service staff from dozens of countries work together tirelessly to make magic for each audience. In today's world, it is refreshing to balance the negativity with great human feats and to witness accomplishment that requires trust and coordination amongst global citizens.
Please consider going to Luzia, a Waking Dream of Mexico. May your tank be refilled, even half as much as mine was.
THE DETAILS:
The show is in Chicago through September 3 and tickets start as low as $39.
Buy tickets here.
Prepare to pay about $25 in parking near the United Center parking lot. Go early to deal with traffic and to enjoy the pre-show performance (Spoiler Alert: Amazing Break Dancing in the Lobby!)
I suggested price levels Premium, 1 and 2 for the best seating. The center edges and front of Price Level 3 are also good seats!
Enjoy the show!