Sometimes you have to feed a lot of people at once.  When you can make the food ahead, the crowd loves it, and it doesn't take much work? Total score.
There is something so satisfying to me about making large quantities of food. Anthropologically, it probably tickles my survival nerve or something. When I have extra food to stock away in the freezer or large quantities of deliciousness to serve to others, I am content.
This recipe for Beef Barbacoa is ideal for feeding a crowd because it actually tastes BETTER if you make it ahead. The longer that the meat stews in the delectable flavors, the better.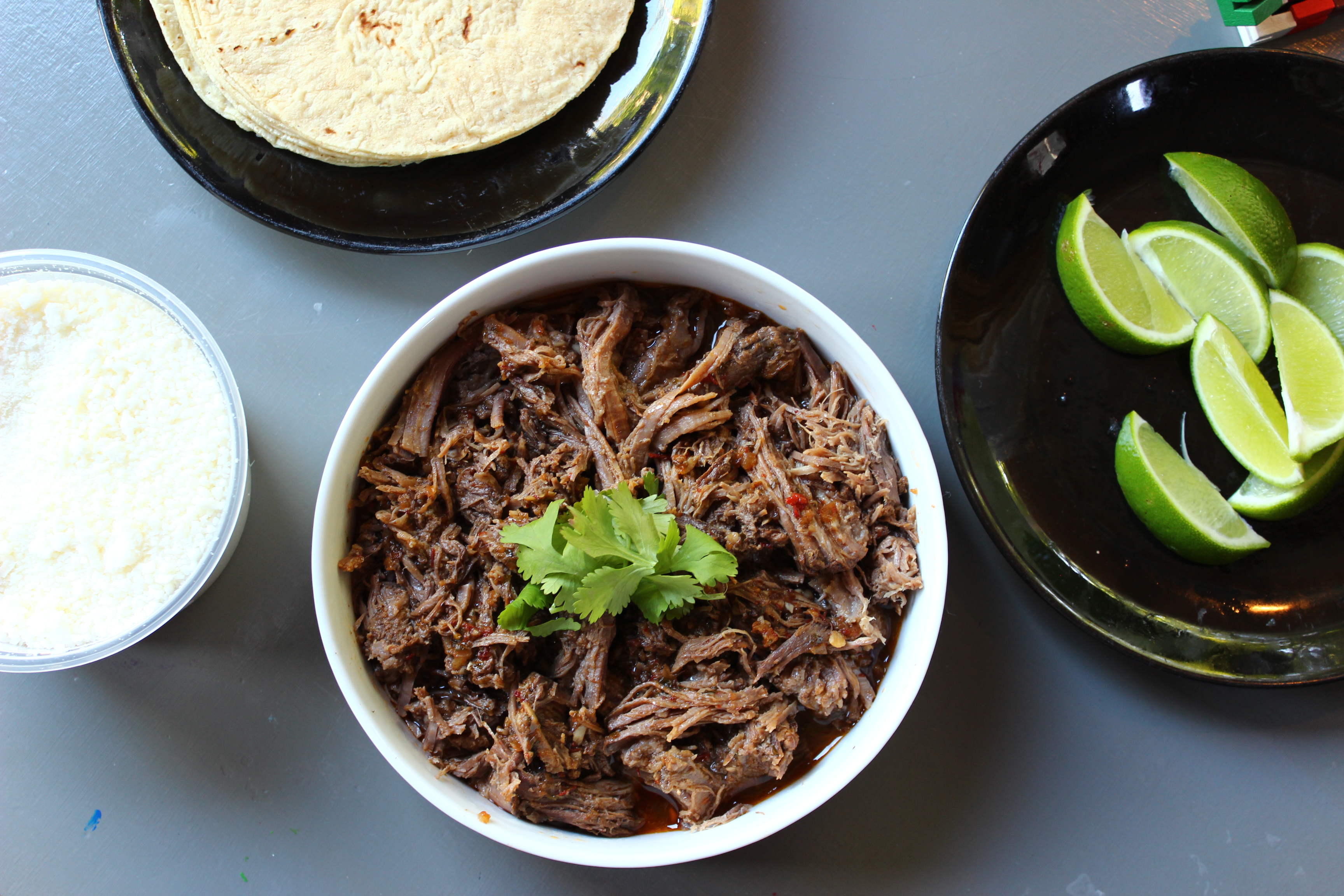 Many know about Beef Barbacoa from Chipotle restaurants. The web is swarming with Chipotle Barbacoa Copycat recipes. I think this one is even better.  You can adjust the recipe to your liking. If you get high from heat, add a few more chipotles in adobo sauce. If you like a brinier meat, up the vinegar and lime juice a touch.
You can find chilies in adobe sauce in a can in the Mexican area of your grocery store. And please don't skimp on the fresh lime juice – it doesn't take that long to squeeze the juice!
Football season is just around the corner. Don't think twice about having people over on game day and prepping this Beef Barbacoa taco bar ahead of time so you can actually watch the game too!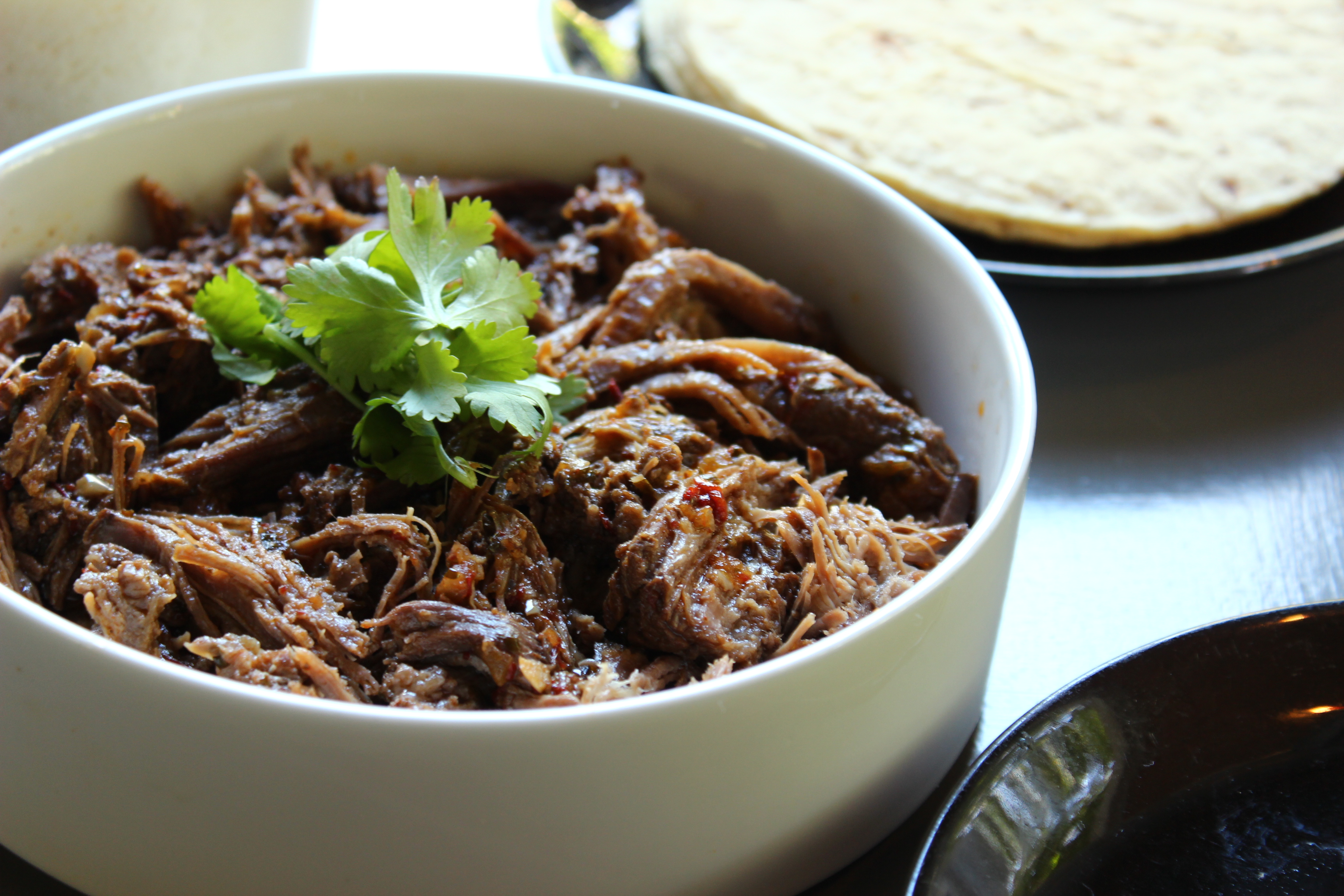 SLOW COOKER BEEF BARBACOA (to feed a crowd!)
Makes: At least 25 tacos, or can be used on nachos, in quesadillas or over rice or salad.
4 canned chipotles in adobo sauce, minced, plus all the adobo sauce it sits in
1 bunch fresh cilantro, coarsely chopped
1 red onion, peeled and cut into chunks
1 head garlic, peeled and cloves smashed
3/4 teaspoon ground cloves
1 tablespoon salt
1/2 cup freshly squeezed lime juice
1/2 cup apple cider vinegar
5 cups beef stock
6- 7 pounds beef brisket
5 dried bay leaves
To serve:
Tortillas (I prefer fresh soft corn tortillas, makes about 25 tacos)
Pickled red onion
Fresh cilantro
Mild pickled jalapeños
Queso fresca cheese (if you can find it or any cheese you like)
Lime wedges
In a blender, pulse until combined: chipotle peppers and their sauce, cilantro, red onion, garlic, cloves, salt, lime juice, cider vinegar, and broth. Put your brisket (either whole or cut in two if needed to fit) in a large slow cooker. Cover with the sauce. Top with bay leaves.
Put your slow cooker on low for 8 – 10 hours, overnight works great. The cooker must get the meat to 160 degrees so it breaks down the meat making it fork tender. If needed, your slower cooker may need to be adjusted based on temperature settings. When the meat is done, you can put a fork in it and turn and see that it will easily break apart into shredded pieces.
Transfer the meat to large cutting board or baking sheet. Use 2 forks to shred the meat. Place the shredded beef in a large bowl and cover with some of the sauce. It should be enough sauce to keep it moist but not covering all the meat. (hint: You can save any leftover sauce to flavor bean soup!)
If you make the meat a day or more ahead, keep it in the refrigerator and return it to the slow cooker to serve on warm. You can warm leftover meat or smaller portions in a skillet and use it on salads, nachos, or in quesadillas.
TO SERVE
Include warm tortillas, pickled red onion, freshly chopped cilantro, pickled jalapeños, cheese, lime wedges, or any other toppings you want on your taco bar