What is it about secret ingredients? In general, people tend to be bad secret-keepers. For many, gossip is magnetic and contagious. Unknown facts (or juicy pieces of fiction) hover in one's brain anxiously waiting to burst out to a willing set of ears. But, with ingredients…cooks and bakers often hold their secrets close to the chest.
The most obvious reason to keep an ingredient secret is when the secret is making you a lot of money, i.e. Coca-cola, Kentucky Fried Chicken. I suppose ego is another stimulus. It feels good and makes us proud to make something delicious that nobody else can replicate. And then there is the mystique… don't we all hunger for things we can't have or don't know? Finally, my favorite reason for keeping an ingredient secret: If you say an ingredient is a secret, you can later reveal the ingredient with an extra dose of drama! (Although in the end, this means it wasn't really a secret at all.)
So, I will get back to this incredibly moist, delicious chocolate cake. A few years ago, I was considering starting an organic cake business. I get slightly obsessed with things sometimes and the development phase of this scheme was intense. I researched and baked a LOT of cakes. It was during this time that I discovered my secret ingredient and finalized my favorite chocolate cake recipe. Since then, I have fed the cake to many people including two professional chefs all of whom praised the cake but none of whom guessed my secret! Each time, I smiled from ear to ear and then excitedly revealed that the cake contained two and a half cups of….(drum roll please)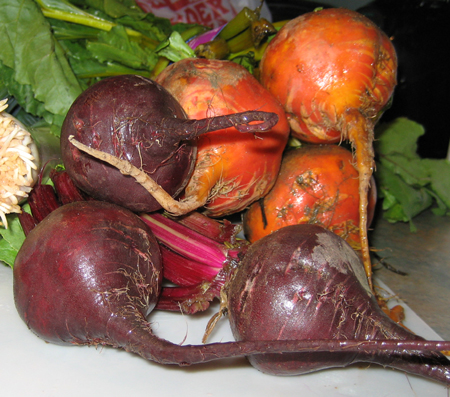 Beets. That's right. Two and a half cups of cooked, pureed beets. I figured that if pureed carrots make my carrot cake recipe so moist and delicious, there must be other root vegetables that serve the same purpose. I researched beets in chocolate cake, fooled around with a few recipes I found, added a chocolate cream cheese frosting and… Voila! The best chocolate cake I have ever made. Give this recipe a try and add beets to your chocolate cake repertoire. But, keep it a secret!
Chocolate Beet Cake with Chocolate Cream Cheese Frosting
Makes 3 – 8 inch layers OR 2 – 9 inch layers with a few cupcakes.
2 1/2 cups cooked beets, pureed and then cooled
6 eggs, lightly beaten
3/4 cup cocoa powder
1 teaspoon vanilla
2 1/2 cups vegetable oil
3 3/4 cups sugar
3 3/4 cups flour, sifted
1 1/2 teaspoons salt
1 Tablespoon baking soda
Preheat oven to 350 degrees. Mix together beets and eggs and set aside. In a separate bowl, combine cocoa, vanilla and oil. Mix well. In another separate bowl, mix together flour, sugar, baking soda and salt. Add dry ingredients into the oil and cocoa mixture, mixing together. Finally, add the beet and egg mixture mixing until well incorporated. Stop and marvel at the gorgeous color of this cake batter. Pour into greased and floured pans. Or, line the bottom of the pans with parchment paper. Bake cakes for 30-45 minutes or until toothpick comes out clean and top of cake springs back to the touch. (Try 18-20 minutes for cupcakes) Cook cakes in the pan for 10 minutes then turn out to a rack. Wait until completely cool to frost the cake.
For the Frosting:
(double this for a 3 layer cake)
1/4 pound butter
4 ounces cream cheese
1 teaspoon vanilla
1 cup powdered sugar
1/2 cup cocoa
Mix together butter and cream cheese until light and fluffy. Mix in vanilla. Sift together sugar and cocoa in a separate bowl. Add the sugar mixture to the butter mixture little by little until stiff. If needed, refrigerate to reach firmer consistency for frosting.
Tips:
-Cake layers freeze well if wrapped tightly.
-Beets can be made and pureed in advance and kept in the refrigerator a few days.
-Put a dab of frosting on your cake plate or stand to hold the cake in place while frosting.