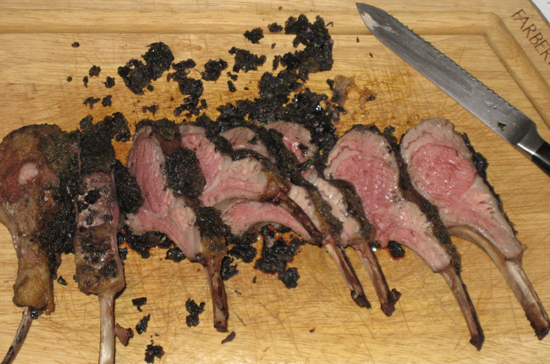 This year, my in-laws came and visited us for Easter. My father-in-law is from the Greek island of Corfu where I hear they have the best Easter celebrations of all time including huge gatherings in the town square, processions, music, the throwing of colored pots out of windows and fireworks. It is pretty hard to top that in Chicago, in April, with below freezing temperatures.
A few years ago, they made the long trip here and I planned a large holiday meal, serving the traditional lamb. Again, there is no comparing the drama and pagaentry of the full lamb on a spit in the front yard but I thought it would be nice to stick to tradition. Over time, I think my memory of that meal has gotten worse. I recall a huge, stinky, greasy leg of lamb that I had to choke down bite by bite and felt embarrassed to serve. The true history is probably a bit more mild.
This year, I had a chance to redeem myself… and I did! A few months ago, a new friend (who I instantly knew was a kindred spirit when I learned she loved to cook, hates raw tomatoes except for in fresh salsa and adores corndogs) served us this amazing lamb dish. It is easy, fast, fancy and fabulously delicious. I served the lamb after a fresh spinach salad course and atop my new favorite starch, garlic polenta. For dessert, we enjoyed a cinnamon cake with French vanilla ice cream.
If you are not a lamb eater, this herb and olive paste would taste amazing coating just about anything. Matter-of-fact, I put it on a small skirt steak and pan fried it for my mother-in-law who doesn't eat lamb and she loved it.
Rack of Lamb with Herb and Olive Crust
1/3 cup coarsely chopped olives – kalamata, picholine or Manzanilla
1/4 cup coarsely chopped parsley
1 1/2 Tablespoons fresh thyme
2 cloves of garlic, coarsely chopped
Pinch of crushed red pepper flakes
1 1/2 Tablespoons mayonnaise
2 racks of lamb (7-8 ribs each, trimmed or frenched)
salt and pepper
3/6 cups breadcrumbs
Heat the oven to 450 degrees. Combine olives, parsley, thyme, garlic and red pepper in a food processor or mortar. Make a rough paste. Stir in mayo. Set aside. Trim lamb so only a thin layer of fat remains. Heat a heavy skillet (NOT a nonstick) over high heat. Season racks with salt and pepper. Set in skillet fat side down and cook for about 2 minutes. Spread breadcrumbs on a plate. Coat the surface of the lamb with the olive paste then dip in the crumbs to coat. Put bone side down in a roasting pan. Cover the bone tips with foil so they don't burn. Roast until instant read thermometer is 120-125 degrees for rare or 130-135 for medium. It will cook another 5 degrees when out of the oven. Let the lamb rest for 5 minutes. Cut apart between the bones and serve.
From Fine Cooking Magazine