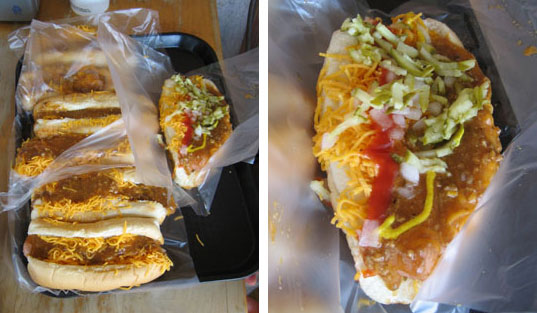 Oh Yesterdog, I will love you until the end of my days.
So many things make you so delectable, let me try to count the ways:
First, that chili is certainly the definable factor that puts you above the rest.
And regularly I dream of your thin, orange strands of cheddar cheese, I do not jest!
Your soft, pillow-y bun squishes between my teeth with such sweet surrender.
The salty, briny pickle bites on the Ultra Dog balance the chili with exacting splendor.
Although I cannot even count my visits to your door, please believe me that this is just the start.
For over twenty years you have tantalized my taste buds, secured my loyalty and forever captured my heart.
Yesterdog, Grand Rapids, Michigan
Best hot dog in the world. Anyone who disagrees has obviously never tried one.