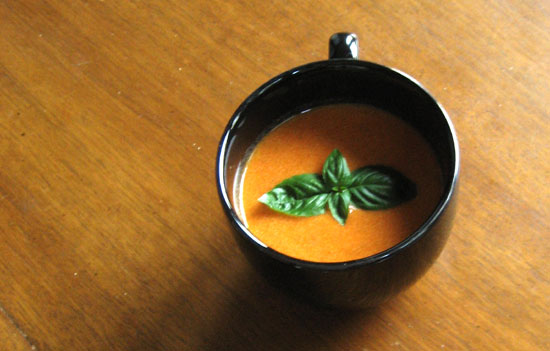 It isn't exactly the height of tomato season any more but the brisk air sure pairs well with a bowl of tomato soup and a grilled cheese sandwich. Believe it or not, thanks to the bizarrely warm fall we had in Chicago, I just brought my basil plant indoors earlier this week and still have quite a harvest! I can't bring myself to waste the fresh basil which seems such a precious gift at this time of year. On the other hand, there is only so much pesto you can make and freeze in ice cube trays.
Although it is not quite as yummy as using fresh tomatoes, canned tomatoes with fresh basil still make a satisfying soup. I usually don't follow an exact recipe each time, it depends on what I have in the house. Below is a recipe I found on the Food Network site that looks a lot like what happens in my kitchen. Try serving it with mini grilled cheese sandwiches that have different add-ins like bacon, avocado, fresh tomato…yum.
Homemade Tomato Soup
Recipe courtesy Michael Chiarello & Food Network
1 (14-ounce) can chopped tomatoes
3/4 cup extra virgin olive oil
Salt and freshly ground black pepper
1 stalk celery, diced
1 small carrot, diced
1 yellow onion, diced
2 cloves garlic, minced
1 cup chicken broth
1 bay leaf
2 tablespoons butter
1/4 cup chopped fresh basil leaves
1/2 cup heavy cream, optional
Preheat oven to 450 degrees F.
Strain the chopped canned tomatoes, reserving the juices, and spread onto a baking sheet, season with salt and pepper, to taste, drizzle with 1/4 cup of the olive oil and roast until caramelized, about 15 minutes.
Meanwhile, in a saucepan, heat remaining olive oil over medium-low heat. Add the celery, carrot, onion and garlic, cook until softened, about 10 minutes. Add the roasted chopped canned tomatoes, reserved tomato juices, chicken broth, bay leaf and butter. Simmer until vegetables are very tender, about 15 to 20 minutes. Add basil and cream, if using. Puree with a hand held immersion blender until smooth.