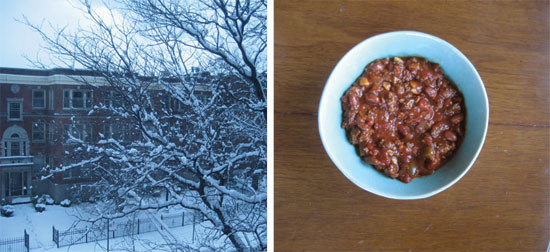 Tonight we had our first snowfall in Chicago. The glistening white flakes floated down and coated the ground and the trees making a winter wonderland. I glided along the unshoveled sidewalks making long tracks in the snow, kicking it up off the toe of my boot now and then. Tomorrow will be full of muddy boot puddles, scraping and digging out the car, tentative winter drivers and lots of complaints from winter-haters. But, I don't care! Right now, I am loving every minute of it! My house feels cozier than ever, my snow-fiend dog is in hog heaven, and the bright fresh white world feels full of hope to me tonight.
The beginning of winter signals that it is prime time to dive into a bowl of steaming hot, chunky chili. There are many great chili recipes and variations but this one is a yummy standby.
All-American Chili
6 oz. hot Italian sausage
2 cups chopped onion
1 chopped green bell pepper
10 cloves garlic, minced
1 pound ground beef or ground turkey
1 jalepeno, chopped
2 T chili powder
2 T brown sugar
1 T ground cumin
3 T tomato paste
1 t dried oregano
pepper and salt to taste
3 bay leaves
1 1/4 cups merlot or other fruity red wine
2 cups beef broth
2 – 28 oz. cans diced tomatoes with their juice
2 – 15 oz. cans kidney beans (or red beans)
Heat a little oil in the bottom of stock pot and cook onions, peppers, garlic and meat until meat is browned. Add spices, sugar and tomato paste and continue to cook a few minutes while stirring. Add the tomatoes, wine, beans and broth. Simmer for 30-60 minutes. If you like, top with grated cheese, sour cream and/or green onions.
I love my chili with a side of cornbread!