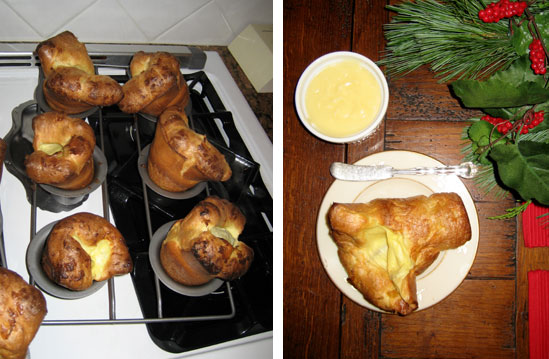 Popovers have always seemed intimidating but the truth is they are really pretty easy. And, not only are they delicious, they are impressive looking on the table! You can make the simplest, easiest dish for a dinner party or holiday meal and put it next to a popover and it will look like you fussed.
This holiday and last, my mom served popovers with honey butter on Christmas Day. They are such a treat, I can no longer imagine the holiday without them. My husband and I also have a popover tradition every spring at tax time. Our accountant is in the suburbs of Chicago so we have to venture out there with fingers crossed to hear our fate… a prosperous return or will we owe Uncle Sam. After the news, we treat ourselves to a lunch at Neiman Marcus in Northbrook to either celebrate or drown our sorrows. Within minutes, the attentive servers place an enormous, hot popover on your bread plate with a side of strawberry butter. mmm, heaven.
You may want to invest in a popover pan. Mine was worth the investment as I have started making my muffins in the pan as well for taller, more elegant muffins. You can also make popovers in ramekins or muffin tins. Before beginning, you may want to read these popover tricks and tips. Try these for breakfast, lunch or dinner.
Popovers with Honey Butter

Makes 12 popovers.
6 eggs
3 1/2 cups milk
4 cups all-purpose flour
1 1/2 teaspoons salt
1 teaspoon baking powder
For Honey Butter:
3/4 cup butter, room temperature
1/4 cup honey
Preheat oven to 450 degrees.
While eggs are still in shells, warm them to room temperature by running hot water over them for three to four minutes. Heat the milk until it is warm to the touch. Mix flour, salt and baking powder together in a large bowl. Beat the eggs at high speed until foamy and pale in color (about three minutes). Stir in the warm milk at low speed. Gradually add the flour mixture to the beaten eggs at low speed. Beat for two minutes on medium speed. Let the batter rest for one hour.
Spray (heavily) a 12-cup, Teflon-lined popover tin with non-stick cooking spray. Fill cups almost to the top with batter. Place popover tin on a cookie sheet.
Bake for 15 minutes at 450 degrees, then reduce heat to 375 degrees and bake for an additional 30 to 35 minutes. Popovers should be a deep golden brown on the outside and airy on the inside.
For the honey butter, combine the honey and the butter. You can make this ahead and store in the refrigerator.
Serve popovers warm with the honey butter.
PRINT RECIPE