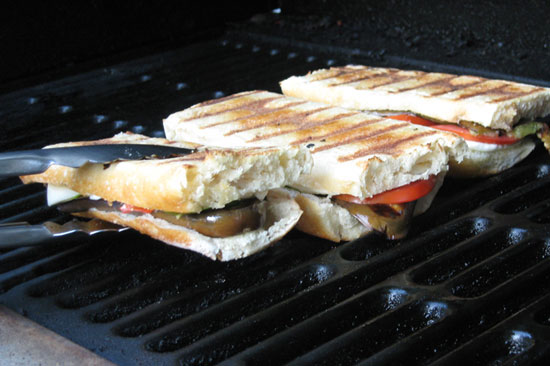 In my previous post, I mentioned that during my Portland bakery binge, I picked up some fresh bread for panini making.  These soft hoagie rolls looked like just the thing to cradle some fresh produce from my friend's bountiful garden.  Panini making has been on my mind since reading pearls of wisdom from this great chef.  She has been posting recipes for chocolate peanut butter banana panini, bacon chocolate panini and more.
I don't have a panini press so I thought I was out of the game.  Little did I know that a few iron skillets or even a clothes iron would do the trick.  The sandwiches pictured above are the result of a very hot grill and an enormous iron skillet.
There is not an exact recipe involved here because the truth is, you can put just about anything in a panini.  The key seems to be great butter on both sides of the bread and something wet inside to keep it from being too dry.  Below is the combination we enjoyed alongside a bowl of hot pink borscht but please… be creative.  And in the case that you have a backyard garden, let your harvest be your ingredient guide.
Fresh Garden Harvest Grilled Panini
White hoagie rolls or Italian white bread
Butter (or olive oil)
Coarse Salt
Eggplant, sliced into 1/2 inch thick slices
mayonnaise (for grilling eggplant)
Fresh tomatoes, sliced
Grilled red pepper or jarred roasted red pepper
Fresh mozzarella cheese
Fresh basil leaves
Heat grill until very hot (400-500 degrees). Spread mayonnaise on both sides of eggplant and sprinkle with salt. Place on grill. Cook both sides until soft and done. If you are grilling the red pepper, put that on the grill too until charred. Slice rolls in half and spread butter or olive oil on both sides. Top with tomatoes, basil leaves, mozzarella, grilled eggplant and peppers. Place sandwiches on the grill topped with an iron skillet to press. Cook until warm and grill marks form. Flip them and cook the other side.