One of my favorite things about Whipped is how this blog has connected me with new people.  Today, I had the pleasure of touring a Chicago spice company, Urban Accents.  The friendly owner himself, Tom, led us through his entire facility telling us his story along the way.
Tom is one of those hard working, food loving, passionate fellows who started in his basement. After losing his job selling plastic packaging, he followed his nose into the spice business.  Finding a hole in the market for lemon pepper and other traditional mixes without salt, he began providing premium spices for home cooks.
When Urban Accents was lucky enough to receive their first big order for thousands of jars, Tom spent four days with the help of his family bottling spices in his living room.  As he puts it, that order made him "legitimate" and from there, he continued to develop new products that have helped him grow to employ nearly 20 people.
Touring Urban Accents was a pleasure for many reasons.  Of course the sampling of food and drinks was fun.  But, my true excitement comes from seeing the inner workings of an operation.  Thanks to a little break in my marketing career when I  worked in operations,  I find that I still get excited by a clean, well-organized warehouse full of neatly marked inventory.  Dorky, but true.  The other delight was finding a place full of people who seem to truly love their work.  Both the owners and their staff are clearly proud of what they do and enjoyed sharing it with others.
Though much of Urban Accents business is selling to other businesses, they have an easy-to-use new website where you can buy their spices and find recipes.  I am DEFINITELY going to brine my turkey this winter.  I can personally recommend the Jalapeno Lemonade, which Tom says is even better with a little vodka. And, I loved the nut mix pictured below.  For holiday gifts, perhaps fill a jar with the finished nut mix and give a container of the Mango Masala Seasoned Salt alongside.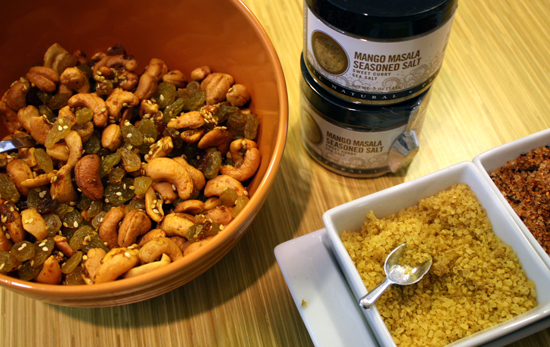 Sweet Sesame Nuts with White Raisins
2 cups unsalted cashews
2 tsp honey
2 Tbsp Urban Accents Mango Masala Seasoned Salt
2 Tbsp sesame seeds
3/4 cups white raisins (optional)
Preheat oven to 350°F.  Place cashews in medium bowl.  Add honey and gently stir so that all nuts are coated as much as possible.  Sprinkle with Mango Masala Seasoned Salt and sesame seeds; toss lightly.  Spread mixture onto prepared baking sheet and bake for 20 minutes.  Cool and break apart into clusters as they cool. Toss in the raisins.  Serve same day.