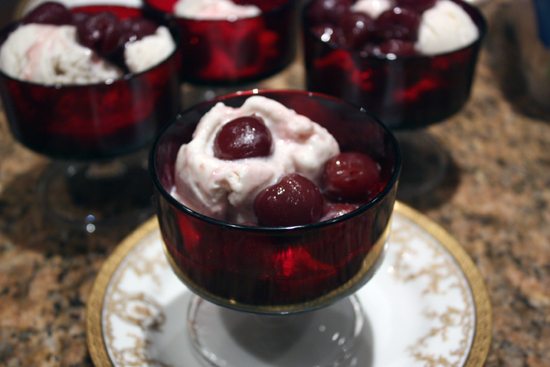 My mother is on the cutting edge of a new food trend. Most Christmases she makes a cherry pie. She believes in a colorful food presentation and the red rounds out the edible spectrum at the end of the meal. This year, out of nowhere, she mixed it up and presented Cherries Jubilee for the first time.
Cherries Jubilee is made with cherries and liqueur which is subsequently flambéed, and commonly served as a sauce over vanilla ice cream. Georges-Auguste Escoffier is credited with developing the dessert for Queen Victoria's Golden Jubilee in 1887. Food history websites report that it reached its height of popularity in the 1960s, and was regularly served at restaurants, flambéed table side.
Last year's food trends were all about comfort food. Everywhere you turned you found meatloaf, breakfast foods and macaroni and cheese. Well, the pendulum always swings back in the opposite direction. The television show Mad Men is bringing back everything that was hot in the 1960s. (I even saw pointy bras and girdle-like underwear in a new ad!) SO, I think it is likely that my sweet mother is at the VERY front end of a new dessert trend. The popularity of spectacular, flaming desserts will ripple across the nation.
Enough of comfort foods. It's 2010. Let's make a scene.

Cherries Jubliee
Serves 6
1 can pitted black cherries
1 tbsp. sugar
1 tbsp. cornstarch
1/4 c. warmed kirsch or cognac
1 qt. vanilla ice cream
Drain cherries, reserving juice. Mix sugar with cornstarch and add 1 cup of reserved juice, a little at a time. Cook 3 minutes, stirring constantly. Add cherries and pour kirsch over the top. Ignite kirsch and ladle the sauce over the cherries. Serve over vanilla ice cream.

PRINT RECIPE