Buttery, hot, doughy, soft, crunchy and sweet. The only problem I have with these waffles is that I will never enjoy any other waffle again.
My husband doesn't have ongoing hobbies that he follows with extreme intensity but rather he seems to have spurts of acute interest that burst forth like an itch that must be scratched.  Lucky for me, his most recent "obsession" was a quest to recreate the hot sugar waffles (Luikse Wafels or Gaufre de Liege) you find for sale on the streets of Belgium. After internet research, a purchase of a new specialty waffle iron and an ingredient hunt, he accomplished his mission this weekend.  The above waffles transformed the way I will think about waffles forever.  After just one bite, I knew that a perfect Liege waffle would exist on my "Top 10 Foods Ever" list.
Not to be confused with Belgian waffles, the Liege waffle is made with a yeast dough instead of batter and is spotted with large bits of sugar.  When cooked in the iron, the sugar chunks melt and create pockets of crunchy sweet on the inside and shiny, slick sugar spots on the outside.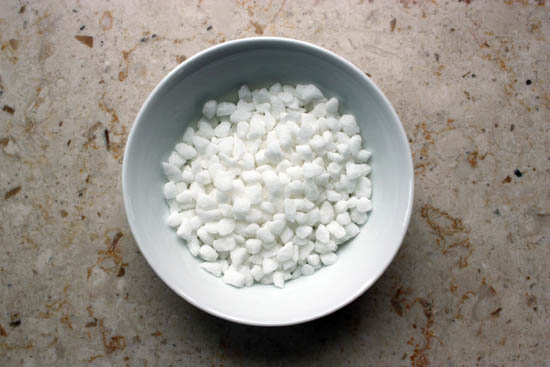 Though he read that you can break up sugar cubes as a substitute, I would suggest you purchase Lars Belgian Pearl Sugar here. These are not the same as Swiss Pearl Sugar.  Other than the specialty sugar, the ingredients are so common, it is hard to believe that the outcome is so uncommonly delicious.
You should use a Belgian waffle iron.  The pearl sugar is quite large and I think that the Belgian iron allows enough space in the thicker waffle to form those little hot sugar pockets.  The new waffle maestro in my house bought this one and it worked beautifully.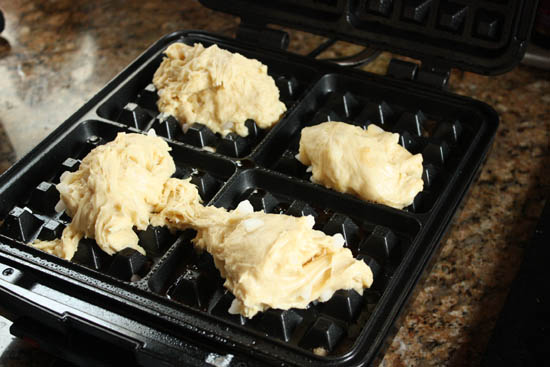 The dough will be a bit sticky and unlike other waffle batters.  Scoop large hunks onto your hot waffle iron.  Then, latch the lid and prepare for aroma therapy like no other.  Just close your eyes, take deep breaths and enjoy those three minutes in your own, personal buttery sweet smelling waffle heaven.
As soon as the waffles are ready, put them on a plate, let them cool a moment so as to not burn your mouth with the hot sugar and finally… indulge immediately.  After you have stuffed yourself (which you are sure to do) you can freeze additional waffles and warm them in a 200 degree oven.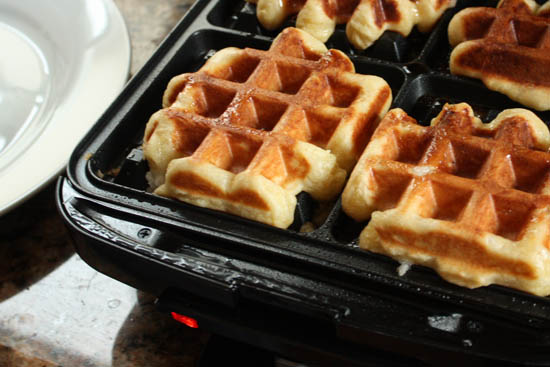 Liege Sugar Waffles
1 (1/4 ounce) package yeast
1/3 cup lukewarm water (about 105 degF – too hot will kill the yeast)
1 1/2 tablespoons granulated white sugar
1/8 teaspoon salt
2 cups flour
3 eggs
1 cup melted butter
1 teaspoon vanilla extract
3/4 teaspoon ground cinnamon (optional)
1 cup pearl sugar*
Prep time: about 1 1/2-2 hours with rising time
Mix the yeast, water, sugar and salt in a bowl and let it develop or sit for 15 minutes. Place the flour in a separate large mixing bowl (we use the bowl of our kitchen aid stand mixer) and make a well in the center of the flour.
Pour the yeast mixture into the well and mix until blended on medium speed (we use the paddle in our kitchen aid mixer). Add the eggs (one at a time), melted butter a bit at a time, and the vanilla and cinnamon. Be sure to mix well after each addition to the batter. Keep in mind the batter will be thick and VERY sticky (this is normal).
Remove the bowl from the mixer and let the dough rest until it doubles in volume inside the bowl. (About 1 hour) Gently fold in the pearl sugar and let the dough rest for 15 more minutes. While the dough is resting, heat the waffle iron.
Spoon about a 2″ ball of dough into the center of the waffle iron (this should yield a waffle that is about 4″ in diameter). I know that sounds small, but these rich waffles pack quite a punch. Waffles will take 3 to 5 minutes to bake (in our waffle iron, they take 3 minutes and 15 seconds on level 3.  Another reader preferred level 4.  Play around with it to get it to your liking).
Recipe makes 8 – 10 waffles.
PRINT RECIPE