An unexpected gift of nearly 3 lbs. of milk chocolate, a magazine rescued from my recycling bin and a request for a birthday cake resulted in this four-layer beauty.
Last week, while visiting my friend Katrina, the chocolate sorceress of Vosges Haut-Chocolat, she asked if I wanted some milk chocolate.  You would be crazy to turn down an offer like that from one of the best chocolatiers of all time so I thanked her and accepted.  Expecting a nibble or bite, I was surprised to see her loading about 3 pounds of chocolate pastilles into my work bag.  I nearly made myself sick that afternoon melting one after another against the roof of my mouth.
While ruminating on what to make with my newly acquired treasure, I remembered an article featuring milk chocolate desserts in Bon Appetit.  A household search finally led me to my recycling bin where I had accidentally and prematurely disposed of the February 2010 issue.  Milk chocolate recipes ranged from mousses to tarts to souffles but due to a welcome request to make a friend's birthday cake, I decided on the Devil's Food Cake.
The original recipe is titled "Top Tier" Devil's Food Cake with Sour Cream Fudge Frosting.  It is a Valentine's Day recipe that yields a small, 5-inch layer cake intended to be enjoyed in place of the top tier of a wedding cake that is often saved for the first year of a marriage.  Cute idea but I needed a full size cake for 20 people.  My first attempt at doubling the recipe did not provide enough cake so I found myself up late into the night calculating and baking an additional tier.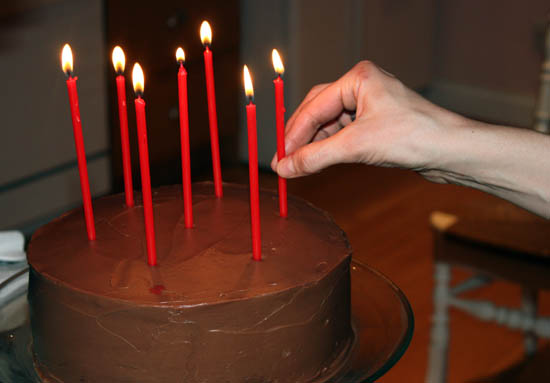 I love desserts with buttermilk, sour cream and cream cheese because the sour-ish dairy balances the sweet.  That is exactly what happened with this fudgey sour cream frosting that cushioned and surrounded the layers of chocolate cake.
Though I wrestled with this cake to get the recipe adjustment right and properly level the layers due to some oven inconsistencies, I am quite sure the next time I make it, the steep learning curve will be behind me and I will whip it out in a few hours. For all of you, accept my learning curve as yours and use the below adjusted recipe to create an impressive 4-tier, 9 inch layer cake!   This probably isn't the best recipe for a beginning baker but for those who love the process… you will be melting, sifting, whisking, whipping, leveling and spreading…. for me, it all adds to the wonderful reward of a final, beautiful and delicious layer cake.
Devil's Food Cake with Milk Chocolate Sour Cream Fudge
Adapted from Bon Appetit, Feb. 2010
For the Cake
3/4 cup natural unsweetened cocoa powder
3 ounces high-quality milk chocolate (such as Lindt, Perugina, or Valrhona), chopped
3/4 cup boiling water
3/4 cup buttermilk
2 cups cake flour (*see substitute below)
1 1/2 teaspoons baking soda
3/4 teaspoon salt
1 cup (packed) dark brown sugar
3/4 cup sugar
3/4 cup canola oil
3 large eggs
1 1/2 teaspoons vanilla extract
For the Frosting
24 ounces high-quality milk chocolate (such as Lindt, Perugina, or Valrhona), chopped
3/4 cup (1 1/2 sticks) unsalted butter, room temperature
2 cups sour cream
1/4 cup light corn syrup
Position rack in center of oven; preheat to 350°F. Butter two 9-inch cake pans with 2-inch-high sides. Line bottom of pans with parchment paper. Combine cocoa powder and milk chocolate in medium bowl. Pour boiling water over; whisk until mixture is smooth. Whisk in buttermilk. In another medium bowl, whisk flour, baking soda, and salt .
Using electric mixer, beat both sugars, oil, egg, and vanilla in large bowl until well blended. Add flour and cocoa mixtures; beat until blended (batter will be thin). Divide batter between pans.
Bake cakes until tester inserted into center comes out with some crumbs attached, 30 to 34 minutes. Cool in pans on racks 15 minutes. Turn out onto racks; peel off parchment. Turn over; cool on rack for at least an hour or until completely cool.
For the Frosting
Place chocolate in large metal bowl. Set bowl over saucepan of simmering water and stir until melted and smooth. Remove bowl from over water. Add butter and stir until melted, then add sour cream and corn syrup and whisk until smooth. Let frosting stand at room temperature until thick enough to spread, about 20 minutes.
To Assemble
When cakes are cool, using serrated knife, trim top of cakes to make level. Cut each cake horizontally in half. Place 1 cake layer, cut side up, on platter. Spread about 2/3 cup frosting (I eye-balled it) over, leaving 1/2-inch border. Top with second cake layer, cut side down. Spread 2/3 cup frosting over, leaving 1/2-inch border. Top with third cake layer, cut side up. Spread 2/3 cup frosting over, leaving 1/2-inch border. Top with remaining cake layer, cut side down. Spread 3/4 cup frosting over top and sides. This is a thin layer – cake will show through. Chill in the refrigerator until frosting is set, about 30 minutes. Keep remaining frosting at room temperature. Spread remaining frosting evenly over top and sides of cake.
DO AHEAD Can be made 2 days ahead. Cover with cake dome and store at room temperature.
* Cake Flour Substitute: Fill 1 cup measure with 2 Tablespoons cornstarch, fill the rest with white flour. This is equivalent to 1 cup Cake Flour
PRINT RECIPE