The outside of this cake was gorgeous but the unexpected treat awaited inside.  The first cut revealed layers of blue and red velvet sandwiched between cream cheese frosting.
A few months ago, my husband became an American citizen.  He has lived here for years but rather than continuing to renew his green card, he made it official and got a blue passport to add to his collection.  He already has Dutch and Greek passports so he added the American one to the pile calling it his "Jason Bourne" passport.
Americans tend to be quite patriotic and through my husband's naturalization process, I saw the best of the American spirit. When I announced that I would be hosting a big BBQ to celebrate, my talented friends came out of the woodwork with generous offerings.  I am fortunate to know a designer who can design personalized plastic beer cups, a floral expert who delivered gorgeous red, white and blue arrangements, an event planner who supplied tables and patriotic linens and a very talented chef/baker who suggested a flag cake.  
My friend Kathy writes the blog Stresscake. Like me, she finds baking terrifically relaxing.  Unfortunately, some of her baking skills were perfected in the middle of the night when she couldn't sleep.  She would often show up at work with fruit tarts and flakey pastries.  It was hard not to feel entirely excited when her baked goods made my mouth sing with pleasure… part of me knew it was at the cost of a sleepless night.
When Kathy offered to make a flag cake, I suspected that we were in for a treat.  She is the type of person who always pulls through, is there when you need her and goes above and beyond, not to mention she has never made a baked good that is short of spectacular.  (side note: check out these mini cookies that she makes every holiday)
With over 70 guests attending, Kathy planned for a half sheet cake. She brought it over about an hour into the party so anticipation and excitement for the much talked about cake was building. I anxiously awaited as she drove up to the house in her cute, vanilla colored Mini Cooper and popped the back hatch.  When she pulled the cake out, I nearly lost my breath.  Neat rows of picture perfect raspberries were divided by piped cream cheese stripes.  Carefully placed blueberries sat atop the nearly 4 inch high beauty.  As she carried her masterpiece into the backyard, the crowd parted making way for the flag cake of all flag cakes.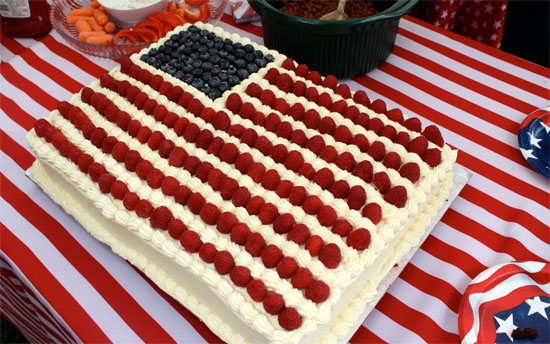 As I gathered a knife and utensils to cut the cake, one of our 5-year-old guests announced that he had recently learned the words to the national anthem and thought this might be an appropriate occasion to sing it.  I concurred.  After I quieted the crowd and said a few words, I noticed that the little fellow had taken a stance in front of the cake, shoulders back, chin up, ready for song.  He led the group in a stirring rendition of our national tune.  Just writing about it plucks my patriotic heart strings again.
As if the fruit decor, mounds of cream cheese frosting and unexpected anthem were not enough, we were in for the final surprise.  Cutting into the cake revealed that Kathy had layered up red & blue velvet cake with additional cream cheese frosting. Fireworks of excitement buzzed through the crowd.  The flavor was delectable, the design impeccable and the love contagious.
With 4th of July just around the corner, I thought you might find some inspiration from Kathy's cake. Keep your eyes on her blog for the recipe here.  My new all-American family is looking forward to the upcoming holiday weekend.  I will be especially thankful this year. Despite the many problems this country has, I am so thankful for all of our freedoms and opportunities.  And, I am thankful that my life is filled with the type of people who help me throw awesome parties, who teach their kids to proudly sing the national anthem and who make the best flag cakes of all time.