Next time you have the grill fired up, plan to use a little corner of real estate for a packet of foil filled with feta cheese, Greek oregano, olive oil and tomato.
We are still a few months away from our annual excursion to visit my in-laws in Greece.  But, the excessive Chicago heat already has me in the mood.  Once I start dreaming of souvlaki, Greek salad, pasticcio, bougatsa and feta, it is impossible to push myself out of the taste bud trance.  Last week, I took an unplanned, quick turn into a local, ethnic grocer (Harvest Time) on the way back from the gym. Ten minutes later, I found myself walking out with a block of authentic Greek feta the size of my head.
Once you get started using feta, it is easy to see how Greek's go through such enormous quantities of it.  It is a key ingredient in salads, phyllo pies and is almost always on the edge of the table for eating plain alongside any meal.  My favorite preparation is oven baked or grilled with a dousing of olive oil, a sprinkling of oregano and some diced tomatoes.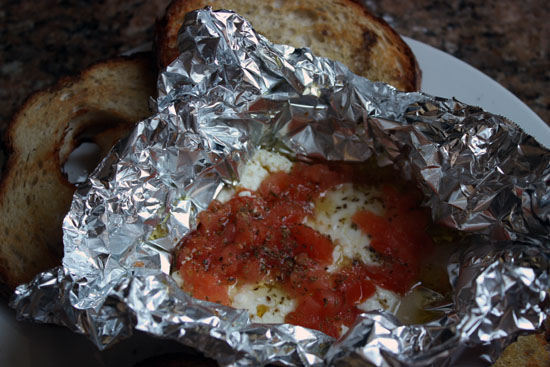 To grill feta, just drizzle some high quality olive oil over a 1-inch slice of feta cheese and sprinkle liberally with Greek oregano and a few fresh, diced tomatoes.  Fold the sides of the foil in and roll them down to create a closed packet.  Carefully place the packet on the corner of the grill for 15 minutes or until all contents are warm and cheese is soft.  I like to serve the cheese alongside grilled bread.  Brush olive oil on both sides on sliced bread and grill on each side until crunchy.  Spread heaping spoonfuls of the cheese mixture onto the grilled bread.  This is delicious alongside kabobs, grilled pork or chicken.
PRINT RECIPE