Busy life, bouts with illness and summer fun had us eating too many take out meals and bowls of cereal. This salad was my attempt to jump start our healthy diets.
It is just so easy to fall off the healthy eating wagon.  A few "just-in-case" frozen dinners from Trader Joe's freezer section, a decision to head to the beach last minute for an evening swim leaving no time to cook, summer heat that made endless weeding of the veggie garden less fun and an unseasonably sick toddler.  These are the types of things that ganged up of late to nearly eradicate fresh, interesting foods from our diets.
To get my mind back into healthy eating mode, I pulled my copy of  Heidi Swanson's Super Natural Cooking off the shelf.  Cooking by color, using natural grains and natural sugars, I felt ready to put in the effort again and prioritize better ways. My friends mav and Steph have both raved about Heidi's wheat berry salad saying it is not only healthy but truly appetizing too.  I took Heidi's advice and altered her recipe for summer by using a basil dressing instead of the citrus dressing found in her book.  If I liked fresh tomatoes, I would have popped a few little grape tomatoes in too.
I was a little out of practice in my kitchen so this meal took quite a bit of time and created a hurricane-like mess.  But, I was proud last Monday night to provide a healthy meal for my brood consisting of this wheat berry salad, fresh asparagus topped with olive oil, cracked pepper and feta and sauteed sweet potatoes with natural maple sugar. Posture corrected, deep breath… I am already feeling healthier.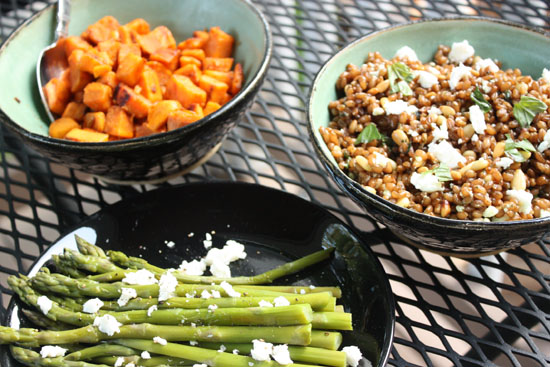 Wheat Berry Salad with Feta, Pine Nuts & Basil
serves 3-4
Ingredients:
1 cup soft wheat berries, rinsed
3 cups water
1 teaspoon fine-grain sea salt, plus more as needed
1 cup loosely packed basil plus 5 additional large leaves chopped
1/2 cup extra virgin olive oil
1/3  cup toasted pine nuts
1/3 cup crumbled feta cheese
Combine the wheat berries, water and 2 teaspoons salt in a large saucepan over medium-high heat. Bring to a boil, lower the heat, and simmer, covered, until plump and chewy, about an hour or so. The berries should stay al dente, and the only way to be sure they're done is to taste a few. Chewy but firm. Drain and season to taste with more salt.
To make the dressing, put olive oil and 1 cup clean, loosely packed basil leaves in a blender with a pinch of salt. Drizzle desired amount over wheat berries and stir to coat.  You can also substitute a store bought pesto mixed with extra olive oil to make it runny enough to use as a dressing.
Toast pine nuts in a pan or oven (I use a toaster oven) until light brown.  Toss pine nuts, crumbled feta and ribbons of basil into the salad.
HINT: Stack basil leaves on top of each other.  Roll them up the long way to create a "cigarette" shape.  Slice it very thin (1/8 inch).  You will have nice ribbons of basil for garnish or salads.
PRINT RECIPE