Rub it, roast it, stuff it, fry it, baste it, brine it, spice it, tie it. Most are particular about their ceremony with their bird.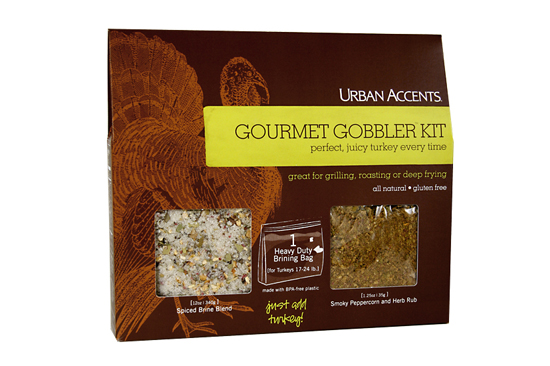 In the next week around food blog land and in your favorite food magazines, you are likely to find more opinions about how to prepare a turkey than on any other food subject year round. Eating turkey is part of the Thanksgiving tradition.  Preparing the turkey is a cook's ceremonial rite.
For the past two years, my mom has brined her turkey and the result has been the most succulent meat we've every enjoyed. By soaking the bird overnight in salted water, the meat becomes deliciously tender. My pals at Urban Accents have made the brining process a no brainer. Their Gourmet Gobbler kit includes a heavy duty bag and brining spices as well as some additional bird seasonings to use right before cooking.
To WIN a Gourmet Gobbler Kit, leave a comment on this post before end of day Thursday this week. I'll randomly choose one winner who will receive the kit just in time for the holiday!  For non-winners who are interested, you can purchase the turkey brining kit here and they will throw in a free pumpkin pie spice.