Greetings from Greece where the garden is bursting with fresh veggies and the trees are heavy with ripe fruit. Little to no preparation is needed.
Some years ago, I received a Barefoot Contessa cookbook for my birthday. A quick flip through the pages revealed recipes that looked simple and easy to follow. When I dug a bit further, I noticed that a number of the side dish recipes were so easy, there was nothing more than a vegetable, some olive oil and coarse salt. Initially, I scoffed, feeling that the multiple roasted vegetable recipes were just page fillers.
It turns out that Ina Garten knew something long before I did. The best thing to do with fresh vegetables at their peak IS to toss it with a bit of good olive oil, sprinkle it with salt and roast it. This easy preparation lets the flavor of the vegetables shine.
We arrived in Greece a few days ago to visit  my in-laws and all of our cousins. Usually, we plan our annual voyage in September but because Mini Whipped will be starting preschool, we altered our routine and will spend the first two weeks of July on the island of Corfu. Though I was worried about the heat, we have been pleasantly surprised by temperatures that peak at around 90 degrees accompanied by light breezes and comfortable evenings.
July has also surprised us with colorful and bountiful growth. Most things grow happily and vigorously on this island. Magenta bougainvillea are climbing everywhere, pink and white blossoms are bursting from every bush and roses are peeking out from unexpected corners. Though we always enjoy some vegetables from the garden, we are witnessing the height of production from the plants. Most exciting for me are the fruit trees. White-fleshed nectarines are waiting to be plucked in the front yard and the soft, green figs are nearly falling from the trees.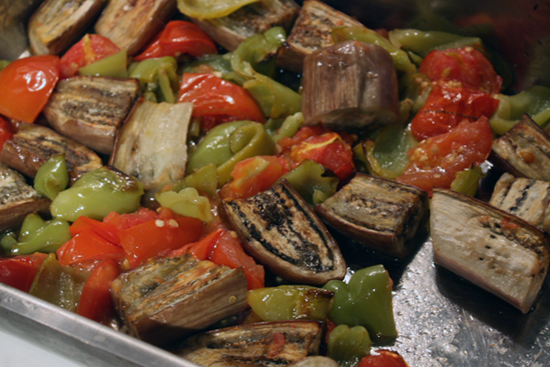 To make an easy side dish last nights, Mini Whipped walked through the garden with her grandparents, plucking tomatoes, eggplant and peppers. I followed Ina Garten's lead and cleaned them, cut them, tossed them with olive oil, sprinkled them with salt and roasted them in a 375 degree oven for about half an hour. The flavor was remarkable.
Since many likely do not have the luxury of a garden like this, find your local farmer's market and ask the farmer's what is at the freshest and at its best. Keep preparation to a minimum and enjoy the finest of the season.