This healthy salad is part of the plan to keep from undoing my latest exercise regimen!

I am on a self-improvement kick. It started with the investment of a personal trainer. My muscle tone has been so much worse since Baby Whipped was born and I suspected that regaining it would help with aches and pains I was having. I was right and along with it, I have been rewarded side dishes of energy and positive thinking.
About six weeks ago, I was assigned to a wonderful trainer at the Galter Life Center. She is my kind of woman – soft on the outside and hard on the inside.  I am not commenting on her physical appearance because as you can imagine, she is a personal trainer and very fit. What I mean is that she has a warm, soft friendliness about her on the outside but some tough stuff on the inside that she uses to push me to my limits! (My over achieving gene can be easily exploited by people who challenge me.)
I had forgotten how much physical strength helps lead to mental and emotional strength. Getting back in shape has not only solved back aches and minor neck pains, it has reminded me that I am a strong person. After just a few minutes of Leslie's cardio, interval training, I feel those magical endorphins start to whisper good things to my brain.
Spending money on training was the first of a number of self-improvement dominoes to t0pple additional efforts. We have declared September hardcore healthy eating month. I am consciously practicing my yoga breathing to manage stress at work. I even bought a box of Crest white strips!
So, my main plan was partly for physical health and partly for vanity. But, overall I've gained a healthy side dish of improved mental health. Let's hope I can stick with it!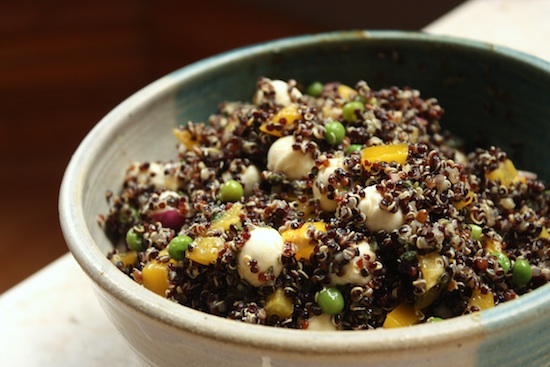 If you aren't familiar with Quinoa, it is a super food. It is a grain that is high in protein and full of fiber. Just this year, I learned that you can buy red and black quinoa too. I must admit that if its healthful properties were not so impressive and if I was making decisions simply on taste, I would probably choose a plate of pasta. But, as I continue to work my way through the recipes in this cookbook, I am finding that I like it more and more.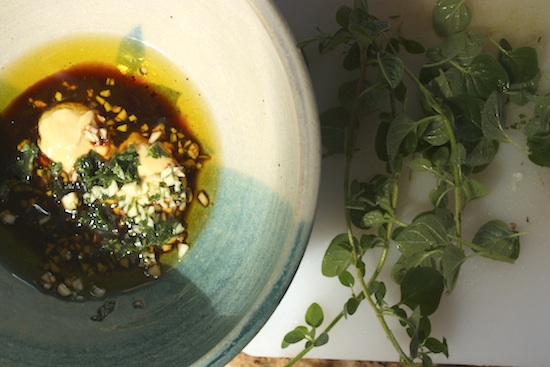 I adjusted the recipe slightly based on the ingredients I had. I was thrilled to finally use the fresh oregano in my garden for the delicious dressing. Experiment and toss in whatever you have in your crisper drawer.
Bocconcini and Oregano Salad
From Quinoa 365
3/4 cup (185 mL) quinoa
1 1/2 cups (375 mL) water
1 cup (250 mL) diced zucchini
1 cup (250 mL) halved cherry tomatoes
1/2 cup (125 mL) diced red onion
1/2 cup (125 mL) frozen green peas, thawed
1 cup (250 mL) diced red bell pepper (about 1 pepper)
1/2 cup (125 mL) diced yellow bell pepper
3 Tbsp (45 mL) balsamic vinegar
2 Tbsp (30 mL) extra virgin olive oil
1 Tbsp (15 mL) Dijon mustard
2 Tbsp (15 mL) finely chopped fresh oregano (or 2 tsp/10 mL dried oregano)
2 tsp (5 mL) minced fresh garlic
pinch salt
pinch ground black pepper
1 cup (250 mL) halved mini bocconcini cheese pieces (small, fresh mozzarella balls)
Bring the quinoa and water to a boil in a medium saucepan. Cover, reduce to a simmer and cook for 10 minutes. Turn the heat off and leave the covered saucepan on the burner for another 4 minutes. Remove the lid and fluff the cooked quinoa with a fork. Set aside to completely cool.
Combine the zucchini, tomatoes, onion, peas and red and yellow pepper in a large bowl.
Whisk the vinegar, olive oil, mustard, oregano, garlic, salt and pepper together in a small bowl. Pour the dressing over the vegetables and thoroughly mix all the ingredients. Add the quinoa and bocconcini and mix until evenly combined. Serve immediately or refrigerate for up to 2 days.