Last week, during my stint as Snack Mom at preschool, I worked to win over my pint-sized customers with a special surprise that lurked at the bottom of each snack cup.
Like many schools, my daughter's preschool does not allow nuts in the snacks and foods served to the kids due to allergies. I decided to make my own nut-free snack mix and during the shopping trip, found myself staring blankly at shelves lined with packaged snacks. Wow, there are a lot of foods stamped into different shapes, colored, salted and packaged to catch little eyes' attention.
As I was marveling at the hugely expanded family (or shall I say school) of Pepperidge Farm® Goldfish Crackers®, I had the idea to create a fishing-inspired snack mix. I was turned off by the new "colored" fish, which is a bit silly because it isn't as if the traditional orange-colored fish are au natural. The "flavor blasted" varieties, though they promised to be explosively tasty and super-charged, did not make my mix either. I bought a bag of pretzel fish, graham cracker fish and the mini cheddar fish.
Long, skinny snack sticks became the "fishing poles" and one gummy worm was curled up under each pile of fish as "bait."  I was excited about the concept and it seemed like a good sign that I had numerous interruptions after assembling the first snack cup in order to take a photo: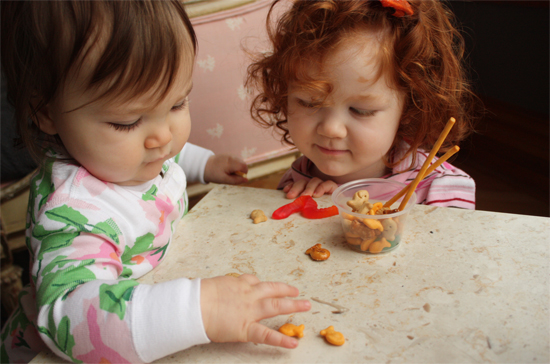 Perhaps a piece of candy was not an appropriate addition to the preschoolers' mid morning snacks. But, I just couldn't resist. I set up the twenty-eight cups at the mini tables and left before snack time, so I was unable to witness the kids' reactions. Hopefully, the gummy worm surprise caused more excitement than mayhem and did not garner too much disapproval from the teachers.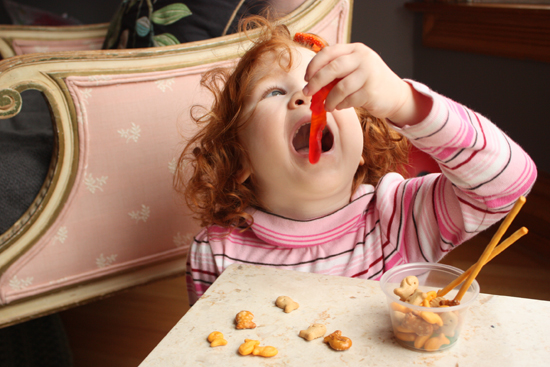 Gone Fishing Snack Cups
Fish Snack Crackers
Gummy Worms
Pretzel or Bread Sticks
Put one gummy worm at the bottom of each cup. Fill with mixed fish crackers and add the sticks as fishing poles.