Yesterday, during a visit to a Costa Rican coffee farm, I was presented with this unbelievable spread of typical foods made with ingredients fresh from the farm.
When watching food travel shows on TV, I am always most interested in the meals that the host enjoys inside the homes of average people (in other words, home cooks versus professionals). When I arrived at a small family farm in the Tarrazu region of Costa Rica yesterday morning, I was presented with this breakfast. The experience was more than I could have imagined. My hosts were gracious and generous and the food was outstanding.
One of the invigorating things about traveling is treating your senses to colors, smells and sights that are outside your usual impressions. For my Costa Rican hosts, their kitchen and food is their everyday. For me, it was a vibrant departure from my Chicago world. The  wood burning stove emitted aromas of campfire that mingled with smells of freshly cooked tortillas. The white, enamel appliance popping against the vibrant green walls was so appealing I privately vowed to upgrade my kitchen walls to a more vibrant color when I return home.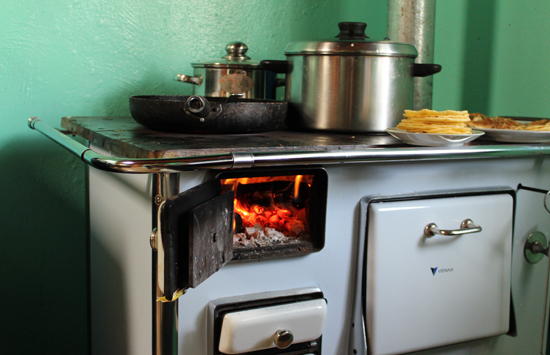 I enjoy asking people from different countries what they eat for breakfast. It varies so much from culture to culture. Many of the Costa Ricans I've talked to about their morning routines explain that Gallo Pinto (black beans and rice) alongside eggs is a common daily menu. Not only did the breakfast pictured above include Gallo Pinto and farm fresh eggs with ham but also different varieties of mini omelets served atop a bed of black beans anchored by a homemade tortilla. Heavenly.  A few different types of corn cakes, savory bizcocho and sweet tamales de elote, were welcome accompaniments. About half way the through the breakfast, I asked what the bowl of white, thick liquid was in the middle of the table. "Sour milk cream from our cow," my new friend answered. And I had thought it couldn't get better.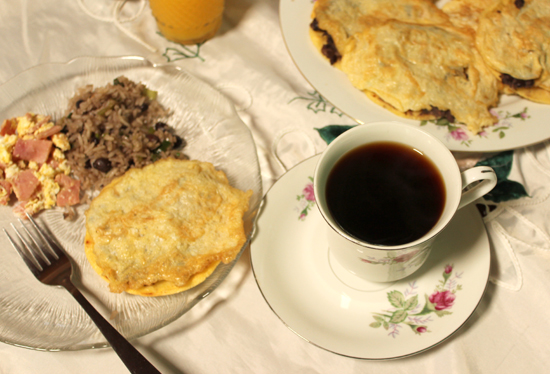 Of course, the star of this show was the alluring, dark liquid inside my cup –  Costa Rican tarrazu coffee. After all, it was multi-generational farmers that were serving the meal! Tarrazu is one of the most famous coffee growing regions in the world. The high altitude, the rich volcanic soil and the ideal climate produce a hard bean with exceptional flavor. After what I witnessed during my tour of the farm, it is safe to say that an enormous amount of love, care and hard work are equally important ingredients in producing this fine brew.
You may be wondering what led me to this experience? My wonderful clients and friends at Cafe Britt helped arrange everything. I believe Cafe Britt coffee is one of the best kept secrets in the American foodie world. Through my work with them, I have had the great fortune to learn more about Costa Rican culture, the gracious people and all the edible wonders found here. When I get home, I'll experiment with a few of the recipes so I can share them with you.