This weekend, we learned that a Christmas Tree cookie cutter can also make Halloween Witch cookies.
On Saturday, Mini Whipped and I spent nearly a half hour scrolling through the image results of a general Google search for "Halloween cookies."  Ghosts, candy corn, bright orange, dark chocolate, spiders, ghouls and goblins. We were drawn to a photo of witch cookies because we were so impressed that they were made from a Christmas Tree cookie cutter.  My cupboards are full and I am trying not to bring unnecessary cooking tools into my life. Halloween shaped cutters don't feel essential.
The two of us grabbed our umbrellas and began our excursion to the local grocery store to hunt for ingredients to build our witches. Right away, my little baker spotted the candy corn and decided they would make good noses. We scoured the baking aisle uncovering a variety of decorative sugars and debated which chocolate cookies would make ideal hat brims.
When I looked down and saw our cart filled with a bunch of artificially flavored and colored candies, I decided that I wouldn't use my time making cookie dough and for the first time ever, I bought a tube of Pillsbury sugar cookie dough. Of course if you aren't making cookies, why make the frosting? Yes, two tubs of frosting came next.
As I unpacked the groceries, I had a sick fascination with studying the ingredient labels and nutritional panels. How can they call them fruit roll ups? They are a colored slick of corn syrup on plastic. Soon, I was laughing to myself that the combined list of scientific ingredients that would make these cookies resembled something closer to what you might find in a witches cauldron than in a food you would want to put in your mouth.
So, our rainy day event became more of an art project and science experiment than baking adventure. The girls both had fun playing with the dough and practicing with the cookie cutter. The decorating was a blast. I keep clean paint brushes on hand for detailed adornment. As expected, we snitched a few treats here and there.
As the project continued, it became clear that our "experiment" was also one of the effect of sugar on small bodies. We are not purists and enjoy our fair share of treats. But, it is rare that Mini Whipped eats this level of corn syrupy candy. Her first witches looked a lot like mine. But as she continued to work and snitch, her performance was altered (Exhibit A: witch progress over time)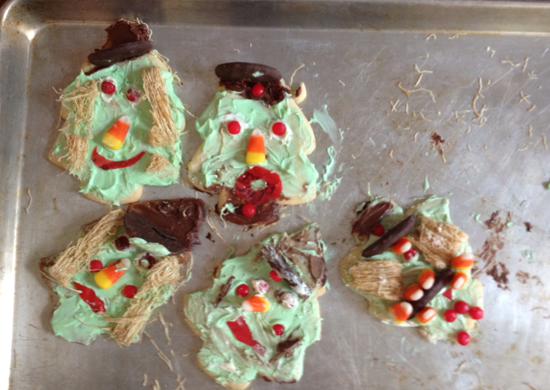 By the end, she was literally bouncing around the kitchen laughing hysterically.  We couldn't calm her down. Yikes. If you don't want to follow our path, you could make these same cookies yourself using good old fashioned ingredients like butter and flour. And perhaps you could use more natural decorations. On the other hand… it's Halloween. And, you can't always be a purist.
What you Need to Make Halloween Witch Cookies:
1 Christmas Tree Cookie cutter
1 roll of sugar cookie dough
green food coloring
white frosting
chocolate frosting
thin chocolate cookies
red hots
candy corn
fruit roll ups
large Shredded Wheat blocks
Roll out the cold cookie dough on a floured surface and cut out trees. Cook per the package directions. If the dough gets hard to work with, put it in the freezer for a few minutes. Colder is easier for cut out cookies.
Color some of the white frosting green. Use chocolate frosting on the top section of the tree to make the hat and green frosting for the face.
Cut chocolate cookies in half to make the brim of the hat. Use other decorations to make faces. We used kitchen scissors to cut mouth shapes out of fruit roll ups. They were easier to cut after being in the refrigerator for ten minutes.
Eat in moderation :)