This post is sponsored by Pinnacle® Vodka.
Over the past few years, I've gotten hooked on mixology and love tinkering to create an ideal cocktail combination. After a little analysis, I realized that it's probably a factor of my life change as a mother of young kids that rarely has time to go out and drink bartender's cocktails. When we do gather, it's often with other families. I've gained a bit of a reputation amongst our peers as the one who is in charge of bringing the cocktails to the party. My old favorite hobby was honing recipes for baked goods, especially cakes. The time commitment for a cake is SO much more than creation of a cocktail, and that scarcity of time has certainly also been a factor in driving me to craft my own drink!
I was offered an opportunity by Pinnacle® Vodka to create a new cocktail, so I eagerly assembled my mad scientist toolset and jumped at the opportunity. Pinnacle has over 40 different flavors. Initially I had planned to create something with their Original flavor, as I am not much of a flavored vodka gal, BUT while perusing their selection, I found Pinnacle® Whipped Vodka and I just couldn't pass up the opportunity to create a Whipped drink for Whipped (the blog!), though I was skeptical that the taste would be overly artificial.
My first bottle of the flavored vodka awaited me unopened at my office. Eager to get started with cocktail ideas and to assess what I was in for, I emailed my assistant and requested that she take a sip! Her reply was encouraging and made me smile:
"Okay, so we may have underestimated the Pinnacle® Whipped Vodka. I just had a little sip and it was surprisingly good – tasting sweet with nice whipped cream flavoring. Just sniffing it is nice too. I even had Julie take a whiff and she said on the front side of the smell it is bold, rich, and creamy. On the back end, however, you can definitely smell the vodka. Haha Mixed in a sweet cocktail, I can see this vodka being really, really nice."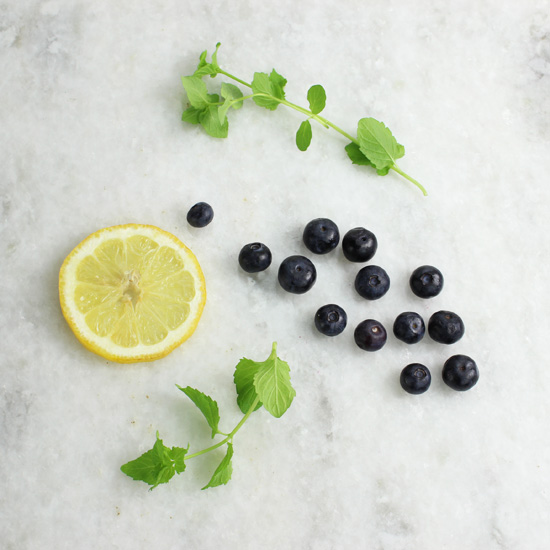 I began scheming how I might fold the aromatic, sweet liquid into a tantalizing mixed drink. When brainstorming ideas, I started by thinking of everything that tastes nice with whipped cream. Strawberry shortcake and key lime pie were at the top of my list with thoughts of a graham cracker or Nilla Wafer rim. But, after a quick web search, I found I was far from original. Pinnacle has such a deep recipe section of their own that it forced me to further stretch my creative boundaries to not duplicate.
If you've tried any of my other cocktail recipes, you'll know that herb-infused syrups are one of my favorite ingredients. I have a variety of vessels in the back of my fridge with different flavors. So, I began pairing summer fruits with different herbs and landed on this Blueberry Lemon Mint Cooler. After feeding it to my husband, he said, "Wow, that's dangerous." When asked what he meant, he said it would be one of those drinks that you sip fast because it tastes so good and then it sneaks up on you.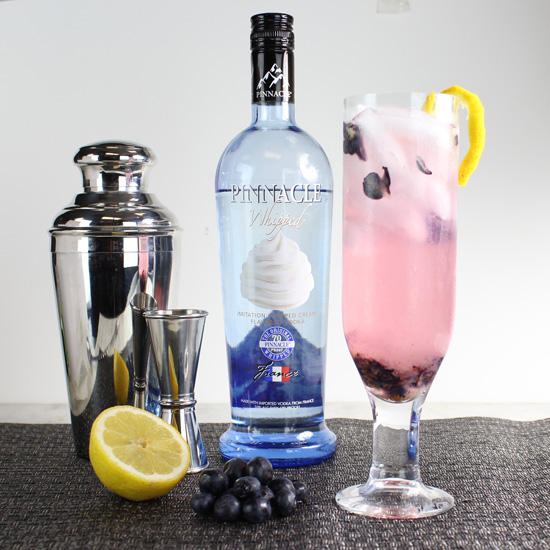 These would be perfect with pretty paper straws for an afternoon party or even for a brunch gathering in place of mimosas. You could also skip dessert and drink your way through one of these!
Blueberry Lemon Mint Cooler
Makes 1 drink
10 fresh blueberries
1 ounce mint-infused simple syrup (recipe below)
1 ounce fresh squeezed lemon juice
2 ounces Pinnacle® Whipped Vodka
4 ounces soda water
Muddle the blueberries at the bottom of a cocktail shaker. Add the syrup, vodka, lemon juice and shake well with ice. Empty full contents (don't use the strainer) into a tall glass with ice and add soda water. Stir and garnish with a sprig of mint and/or lemon twist.
Mint syrup
1 cup sugar
1 cup water
½ cup fresh mint leaves
Bring water to boil in a medium saucepan. Reduce heat to low. Add sugar and mint and simmer 2 minutes until sugar is dissolved. Remove from heat and let cool completely (about 30 minutes). Pour mixture through a fine wire-mesh strainer into an airtight container, discarding mint. Cover with lid and store in refrigerator for up to 2 weeks.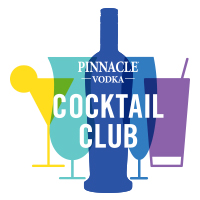 Pinnacle Vodka shakes things up with unexpected experiences and delightful
discoveries. Explore with other fun flavors at http://www.pinnaclevodka.com.
Pinnacle® is a registered trademark of Jim Beam Brands Co. and is used with permission. This is a sponsored partnership, with Pinnacle® Vodka, via Mode Media. The information, comments, and ideas expressed on this website are those of the author and do not necessarily reflect the opinions or positions of Jim Beam Brands Co., its affiliated companies, or any of their directors or employees.