I have always loved the practicality of a good pound cake. Before there were food blogs and food magazines and even before cookbooks, there was word of mouth. How practical to have a basic recipe that was so easy to remember. Just imagine, you would barely have to slow your carriage as you passed your lady friend along the cobble stone streets to ask, "How was it that you made that delectable cake you served at our last tea party?" And she would respond, "one pound each of butter, sugar, flour and eggs" before tipping her hat and continuing on her way.
In a 1796 cookbook by Amelia Simmons, the author wrote, "Pound Cake: One pound sugar, one pound butter, one pound flour, ten eggs, spices to taste; watch it well, it will bake in a flow oven in 15 minutes." Easy enough.
My recipe has been modernized a touch. Leavening agents make a less dense cake and salt offsets the sweet a touch. I have an incurable love affair with buttermilk so it finds its way into much of my baking. This cake is also the perfect vehicle for one of my favorite flavors – vanilla. The healthy dose of vanilla extract will have your kitchen smelling like a dream as you bake! The sweet, vanilla glaze drizzled atop provides a pretty adornment and doubles the vanilla experience.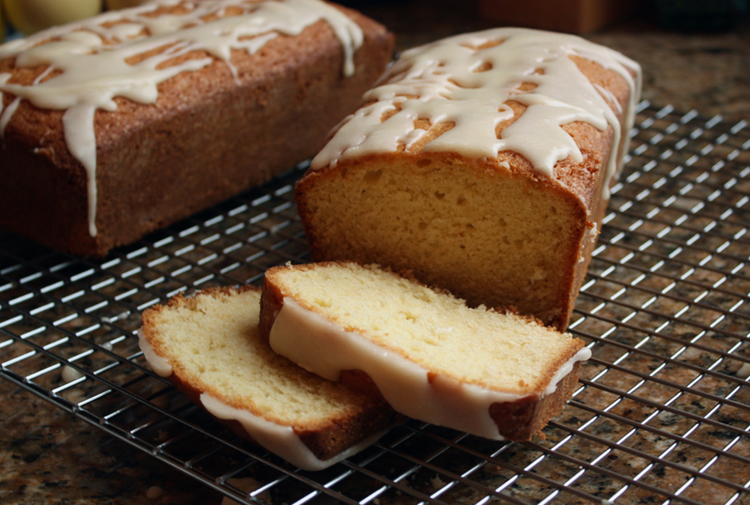 A good pound cake is a like a staple item in your wardrobe. You can wear it as is or you dress it up with accessories. Because this is a basic cake, ingredients and technique are more important than ever. Baking is a science, so put on your lab coats and pay attention to the details. High quality ingredients, the temperature of the ingredients and how long you mix DOES make a difference.
Serve this cake as is or top it with fresh fruit. Loaves may be wrapped tightly and frozen before they are glazed.
Glazed Vanilla Pound Cake
For the Cake:
2 sticks (1/2 lb.) unsalted butter
1 ¾ cup granulated sugar
4 eggs
2 tsp vanilla extract
3 cups flour
½ tsp baking powder
½ tsp baking soda
1 ½ tsp salt
¾ cup buttermilk
For the glaze:
1 Tbsp unsalted butter
1 ½ cups confectioner's sugar
1/8 tsp salt
½ tsp vanilla extract
5 teaspoons milk
For the cake:
Remove butter, eggs and buttermilk from the refrigerator and let stand while you measure ingredients so they warm. Preheat the oven to 350 degrees. Grease and flour two loaf pans or one Bundt pan.
In a large bowl, sift together flour, baking powder, baking soda and salt. Set aside.
When butter is slightly cooler than room temperature (60 degrees), cream it with the sugar using an electric mixer (paddle attachment on stand mixer) for 5 minutes. Add room temperature eggs one at a time, beating to incorporate after each egg. Add vanilla and incorporate.
Alternately add the flour mixture and the buttermilk, beginning and ending with the dry ingredients (1/3 of the flour mixture, half the buttermilk … flour, buttermilk, flour).
Pour the batter into loaf pans or Bundt pan and use a spatula or back of a spoon to flatten it. Bake for 45-55 minutes. Keep an eye on the cake and when the top is domed and light brown, check for doneness. Toothpick should come out clean. Do not over bake! It will dry the cake.
Let cakes rest in the pans for 15 minutes before removing them.
For the glaze:
Melt the butter and put it in a bowl to cool slightly. Sift confectioner's sugar and salt. Using a whisk, mix the sugar and salt into the melted butter. Add the vanilla and stir. Add milk 1 teaspoon at a time, stirring with the whisk. Add less or more milk to reach desired consistency. Drizzle over the cake after the cake is cool.