This year both of our Easter calendars align, which means there are many traditions to squeeze into one weekend!!!
Often Greek Orthodox Easter is observed on a different day than than my usual Easter. My husband is half Greek and has brought all the orthodox traditions to our family and I like to maintain the annual happenings I grew up with. So, this weekend, we will have to make Greek Easter bread (Tsoureki), Greek Easter cookies (Koulourakia), dye bright red eggs, dye pastel eggs, have an Easter egg hunt, and all the while remember that the true meaning of the holiday is about resurrection and renewal. Phew… full speed ahead.
In Greece, Easter is the biggest holiday of the year. Many people go back to the villages or islands they came from and gather with family enjoying celebrations and feasts. Think "My Big Fat Greek Wedding" minus just a touch of the exaggerated stereotypes and you have a little glimpse into what it's like. On Corfu, where my father-in-law is from, Easter traditions are colorful and big (as you would expect from colorful Mediterranean cultures with big personality.) Sadly, I have yet to be on the island during Easter as we always travel to Corfu in the warm summer months.  I hear that they throw large pots from windows smashing them on the streets below , gather by the thousands for candlelight services, and eat A LOT.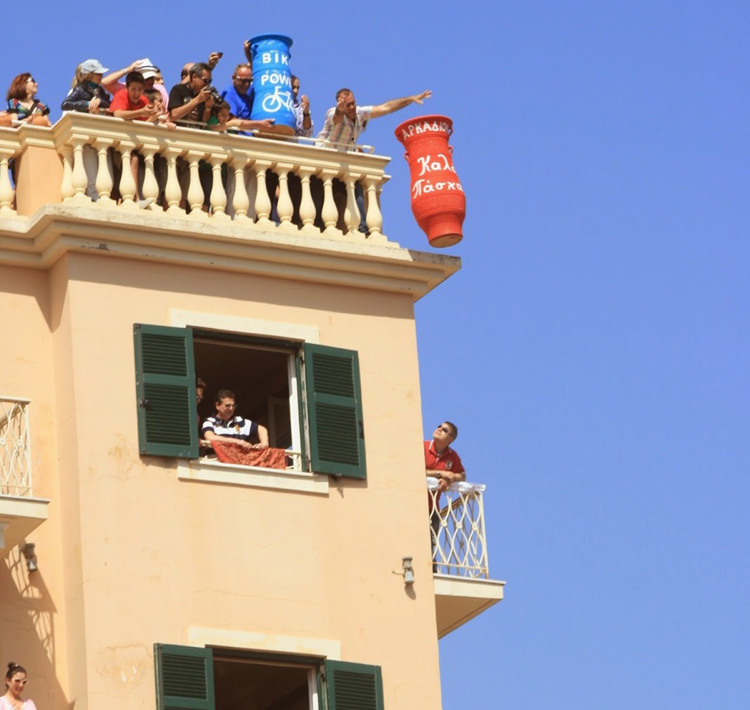 One year, my sister-in-law was given a lamb as a gift from her company (like how some Americans sometimes receive a ham or turkey at the holidays) and she brought it home to the island in the overhead bin of the airplane. I was so surprised but learned she wasn't the only one. I marvel at what the fight for overhead bin space must be like in Greece at Easter. Does anyone swipe someone's "better" lamb from the overhead as they head out of the plane? Do vegetarians (if there are any in Greece) revolt?
Greek Easter bread is one of my favorite breads. It's slightly sweet and quite eggy. You can find the recipe here. We also love making Koulourakia, or Greek Easter cookies. A simple recipe, the Greek Butter Cookies a touched with lemon for a bit of flavoring and are twisted into shapes before baking them with an egg wash. Greek Easter cookies have a simple flavor and are ideal for dipping into coffee or tea. They last for a number of days stored in an air tight container.
Some people add sesame seeds or even sprinkles to the their Koulourakia. And, different families likely have traditions regarding the shape of the Greek cookies. With our kids, we like to "be creative" and try a variety of wheels, twists and pretzels.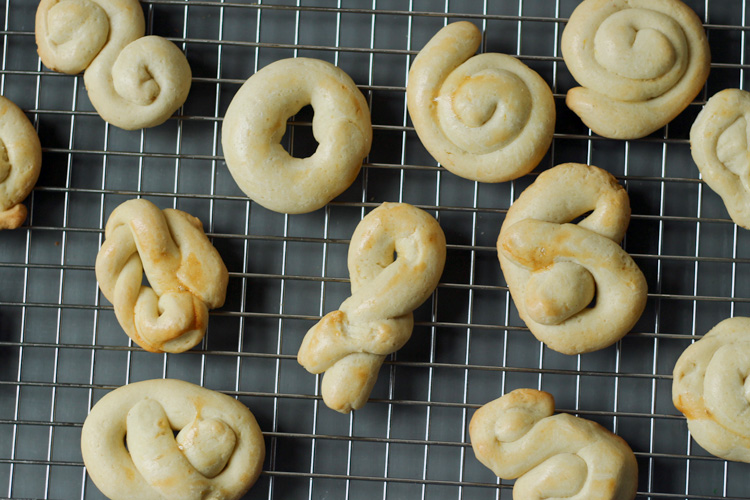 You don't have to be Greek to try these cookies! If you are looking for an extra project after coloring your eggs, try your hand at Koulourakia.
Greek Easter Butter Cookies, Koulouria or Koulourakia
1 cup of butter
1 2/3 cup sugar
5 eggs, 2 of them separated
Rind of 1 lemon, finely grated
5 Tablespoons milk
1 teaspoon vanilla
6 cups flour
Preheat the oven to 375 degrees.
Beat the butter and sugar together. Then add 3 whole eggs, mixing until combined. Add two additional egg yolks and mix. Add the milk, vanilla and lemon and mix until combined. Add the flour little by little mixing just until incorporated.
Take golfball size chunks of dough. Roll them into logs about 1/2 inch thick. For traditional shapes, form into rings or fold the log in half and twist to make a "key." Or, be creative and have fun with your own shapes!
Place on cookie sheets lined with parchment paper. Brush the top with remaining  egg whites, slightly beaten. Cook in the oven for 17-20 minutes or until slightly golden browned on bottom and edges.
Let cool until room temperature. Store in an airtight container. They last for at least 5 days!