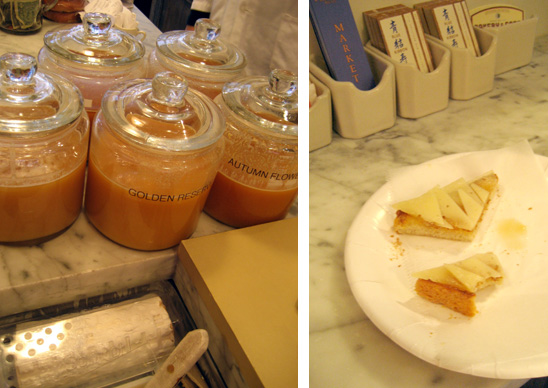 Thank you Blue Ribbon Bakery for such a delectable mid-day treat! Well, the truth is, I devoured the above snack about fifteen minutes after eating my enormous breakfast at Cafe Henri in New York. So, it was more of a "brunch dessert."  Blue Ribbon was right across the street from the cafe and while I was in the neighborhood, I felt it was my duty to visit, sample and report.
5 Steps to a Snack from Taste Treat Heaven…
1. Toast a piece of your favorite bread. I suggest a nice white farm bread or italian loaf. However, anything would do, including a sweet pecan raisin. (yummmm) If you don't have access to good bread, it is worth the money to treat yourself and mail order it from here.
2. Generously spread some thick, delicious honey on the bread. You can order the amazing 100% raw Mexican Honey seen above here.
3. Top the toast with thin slices of manchego cheese. You can likely find this near you but if not, order some along with other Spanish treats here.
4. Cut the toast in four triangles. I don't know why… but the size and shape DOES matter. Ask any kid about the shape of her PBJ sandwich halves.
5. Close your eyes and take a bite. Crunchy toast, sweet and flavorful honey, cheese from heaven…. oh my. You will likely need to return to step one and repeat immediately.
I have not had a chance to eat there yet but word on the street is that all Blue Ribbon Restaurants are all worth a visit.