Coleslaw is one of those foods that I can't decide if I love or hate. It's rare that something with the same name can be at the top and bottom of your list.

Coleslaw can mean so many things:  A big, gloppy mess overflowing from a small plastic cup next to your fried fish, a surprising red cabbage and apple concoction that turns up alongside your pork sandwich at a fine restaurant, an expected side dish at a BBQ. The common denominator is cabbage.  My preference guides me toward the less goupy, more crisp and refreshing versions.
The heat of summer is upon us and I find myself on the same mission as past years: fill the fridge with large batches of cold salads that will facilitate easy meals that don't require any heating equipment.  Last week, I made these

Vietnamese Spring Rolls

and concocted this slaw to go alongside.
A little tip for those who haven't used jars to mix dressings:  I have found the easiest and best way to mix up dressings for salads and slaws is to measure ingredients straight into a jar, put the lid on and shake it until well combined.  You will also have any leftover dressing in an easy-to-store container for your refrigerator.  Don't hesitate to shake your hips a little while shaking your jar.  Mini Whipped has enjoyed many crazy dance shows from me during dinner preparation. It is one of those things that she loves now at age two, but I can already hear her embarrassed, brooding pre-teen voice as boogie our dressing to emulsification, "Moooooommm… puleeeease!"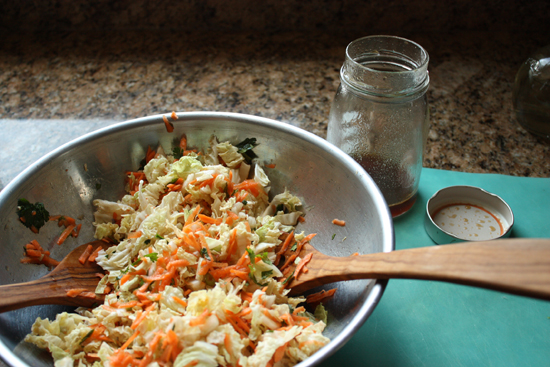 Napa Cabbage Slaw
1 small head of napa cabbage shredded or chopped
2 large carrots shredded
4 green onions, chopped
1/2 cup fresh cilantro chopped
1/2 cup rice vinegar
2 Tablespoons sugar
1 Tablespoon sesame oil
1 Tablespoon soy sauce
Toss cabbage, carrots, onions and cilantro in a bowl. Put remaining ingredients in a jar and shake well until incorporated. Toss with cabbage mixture. Refrigerate 30 minutes before serving if you have time so flavors incorporate.
* I didn't have any but toasted sesame seeds would be a nice addition.  And, if you like it spicy, add a little Thai Chili Sauce with Garlic to the dressing.
PRINT RECIPE