Place it atop pizza, drown it in red sauce or grill it and sandwich the link in a bun. After making homemade sausage, it is hard to go back to the styrofoam tray.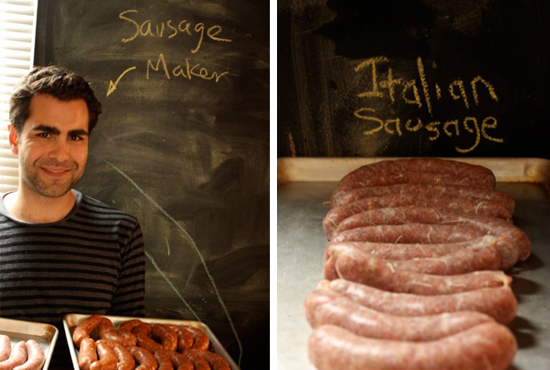 I do most of the daily cooking in our house. Often, I feel like a short-order cook making breakfast for myself and for the kids, and preparing lunches while I check what ingredients we have on hand for dinner. My husband doesn't cook regularly, but when he does, he pulls out all the stops. He has the patience and diligence to perfect and execute bigger projects. One of his specialties is homemade sausage.
Shortly after we announced our engagement (over a decade ago), a family friend told us she had already bought us a KitchenAid stand mixer, so we need not add one to our registry. When the gift arrived, we realized the extent of her generosity. We have the 6-quart professional version, along with a number of additional attachments including a meat grinder. Our benefactor told us, "You just never know when you'll want to grind some meat."
Admittedly, the meat grinder stayed in its package for a number of years. After a trip to a local butcher, where my husband ogled the freshly made sausages, he decided to add encased meats to his repertoire.
Finding sausage casings and completing the sausage-making process from start to finish is quite an undertaking. If you don't have the equipment or the desire to deal with it, you can still make delicious sausage by combining meat freshly ground by your butcher with the high-quality spices. Either sauté the meat immediately for use in sauce or on pizza, or press the meat into patties and freeze them for later. You will definitely notice improved flavor from an average store purchased link!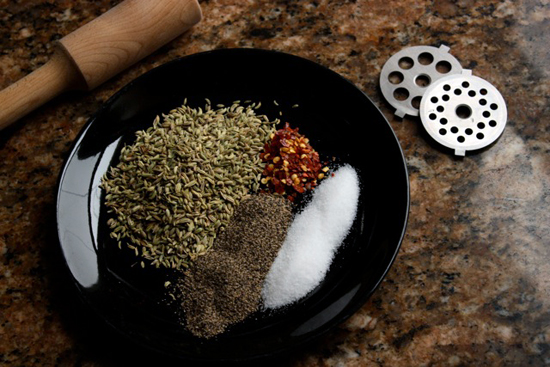 Italian Sausage
2 pounds freshly ground pork shoulder (you need about 80% lean/20% fat)
1 teaspoon salt
1 ½ teaspoons fine grind black pepper
3 Tablespoons fennel seed
2 large cloves garlic, finely minced
1 teaspoon crushed red pepper (This is medium to mild spiced sausage. Add more or less as desired.)
Put all ingredients together in a mixing bowl and stir to combine thoroughly.
If you are not making sausage links, form mixture into patties and store in the refrigerator or freezer.
To make links, extrude mixture into casings and twist to create 6-inch links.
Sausages may be smoked, grilled, broiled, sprinkled on pizza or used in Italian dishes
This post and recipe was originally finalized while working with my friends at Spice Islands as a Flavor Explorer.
p.s. Sausage making is especially fun for little helpers.