Layers of grilled eggplant swimming in meat sauce and topped with a creamy layer of bechamel sauce.
I didn't have much interaction with eggplant when I was growing up. Now and then my mom served it as a side dish. She peeled away the deep purple skin and  sliced the light green orbs. She topped the disks with a bit of mayonnaise and a sprinkling of Kraft parmesan cheese and baked them in the oven. My brother and I didn't eat it though I remember after tasting it, I didn't find it repulsive. In accordance with general kid principles, eggplant landed on our "don't eat" list.
When I met my husband and we first traveled to his father's native island of Corfu, I was surprised by the large vegetable gardens that were thriving in so many yards. On closer inspection, I was equally surprised to find how little variety there was in the plethora of plants. Red, ripe tomatoes hung from dozens of plants, green peppers dangled, cucumbers climbed and rows of aubergine (as eggplant is more commonly known outside the United States) lined the yard.
In Greece, eggplant is often roasted or baked into casseroles. I've always considered the vegetable quite amiable, happily taking on and complementing the flavors around it. Once I was served a hot ceramic dish filled with eggplant, tomato, olive oil and feta cheese baked into a bubbling dream. I'm still working to recreate the experience in my own kitchen. The formula seems simple but there was something particular  about that feta topped masterpiece that I haven't yet mastered.
Moussaka is a well known, traditional Greek dish. Like all national specialities, there are many different versions depending on the region its made and the chef that prepares it. This recipe is one that I have perfected based on my own preferences. Some restaurants layer potatoes in with the eggplant. Once I was told that was done to save money and extend the food. Whether that is entirely true or not, I have frowned upon it ever since. Though I love cinnamon, I don't care for it in my baked Greek food. I grate a touch of nutmeg into the bechamel sauce and let parsley and Greek oregano do the work of flavoring the meat sauce.
A common pitfall when making moussaka is cutting into your finished casserole to find a runny mess. It is important that the eggplant is properly prepared before layering it between the sauces. Follow the instructions to "sweat" the slices with salt. When they are ready, you will see droplets of moisture on the outside. Then, they must be cooked. Many fry the slices in batches but I prefer to grill them until they are properly shriveled and lined with flavorful grill marks.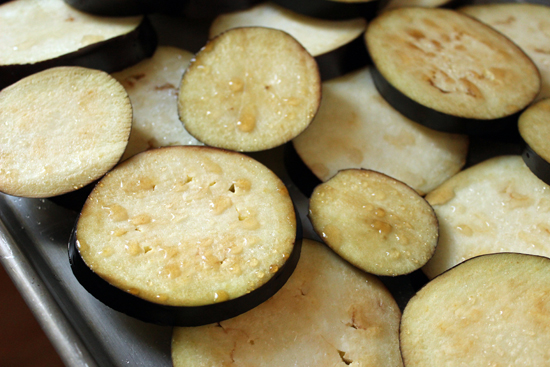 Also, be sure your meat sauce is not too wet. Unlike pasticcio or lasagna, there is not a layer of pasta to help soak up wetter sauce. Cook the sauce down until it is mostly crumbled meat. The eggs and bread crumbs will help thicken it a bit after it's done cooking.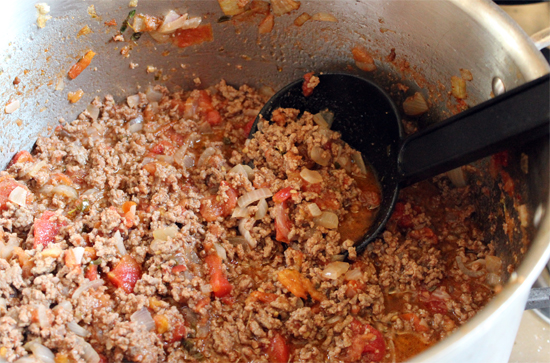 My final tip is to do the best you can to procure good ingredients. It will be make the difference between a good moussaka and an amazing, authentic, your-friends-never-tasted-anyting-like-it moussaka. Dried Greek oregano tastes different than store bought dried oregano. If you can get your hands on some kefalotiri cheese, it will make all the difference in the bechamel sauce. This past year, I have also come to discover how much better freshly grated nutmeg tastes. Quality beef, organic milk, fresh and firm eggplant… the better the ingredients going in, the better the result coming out.
Indeed, making moussaka is a bit of an endeavor. It is a nice activity for a Sunday. You can also make it ahead and bake 3/4 of the way. Pop it in the oven to warm it and brown the top while guests gather.  Like many baked dishes, leftovers are delicious if not better. Kali Orexi!
Note: A number of people of asked why I don't use ground lamb like traditional Moussaka. You may certainly substitute ground lamb. On Corfu, where my in-laws are from, it is common to find ground beef in the moussaka. Like most cuisines, there are regional twists on traditional favorites. 
Moussaka Recipe – Greek Eggplant Casserole
Serves 8
2 1/2 lbs. medium size aubergines (eggplant)
1 medium onion, chopped
1/4 cup butter
1 1/2 lbs ground beef
1/2 cup white wine
3 peeled and chopped tomatoes or 1 can (1 lb.)
3 tablespoons chopped, fresh parsley
2 teaspoons dried Greek oregano
Salt and pepper
3 + 2 heaping tablespoons toasted bread crumbs
2 egg whites, slightly beaten
Olive oil for brushing aubergine
For the bechamel sauce:
4 tablespoons butter
6 tablespoons flour
3/4 teaspoon salt
1/4 teaspoon pepper
dash of nutmeg
2 cups milk
2 egg yolks + 1 egg
1 cup grated kefalotiri cheese (substitues: asiago or parmesan reggiano)
Wash aubergines and keep skin on. Cut aubergines in slices 1/2 inch thick. Sprinkle them with salt and leave aside for an hour to "sweat."
Saute onion with butter until soft. Add the ground beef and cook, stirring to break up the meat. Add wine, tomatoes, parsley, salt and pepper. Simmer covered for about 45 minutes. Remove from heat and add 3 tablespoons toasted bread crumbs. Let cool about 5-10 minutes and stir in the egg whites. You don't want the eggs to cook, be careful the sauce isn't too hot.
For the bechamel sauce, melt utter over low heat in a sauce pan. Add flour, salt, pepper, and nutmeg. Stir until well blended. Remove from heat and gradually whisk in milk and return to heat. Cook, stirring constantly, until thick and smooth. Remove from heat. In a bowl, lightly beat egg yolks and the full egg. Gradually stir the eggs into the sauce. Stir in 2/3 cup of the grated cheese reserving the rest.
Rinse and wipe dry the aubergine slices. They must be cooked before layering them in the casserole. To grill them, brush each side with olive oil and grill on a 350 degree grill for about 5 minutes on each side until you see grill marks and they have shrunk. To cook in a skillet, cover the bottom of the pan with olive oil and fry the slices lightly on each side in batches. Lay them on a plate lined with paper towel.
Grease an oven proof 9 x 13 inch dish. Sprinkle 2 tablespoons bread crumbs on the bottom of the dish and cover the bottom with half the aubergine slices. Spread the meat sauce mixture on top. Cover with the rest of the aubergine. Pour the bechamel sauce evenly over the top. Sprinkle the remaining 1/3 cup cheese over the top.
Bake at 350 degrees for 45 minutes or until the top is golden brown.